Vegan Lasagna
AKA I Have Confidence in Lasagna
I've been thinking about confidence lately. Like anyone's, mine ebbs and flows. At the moment my confidence is ebbing.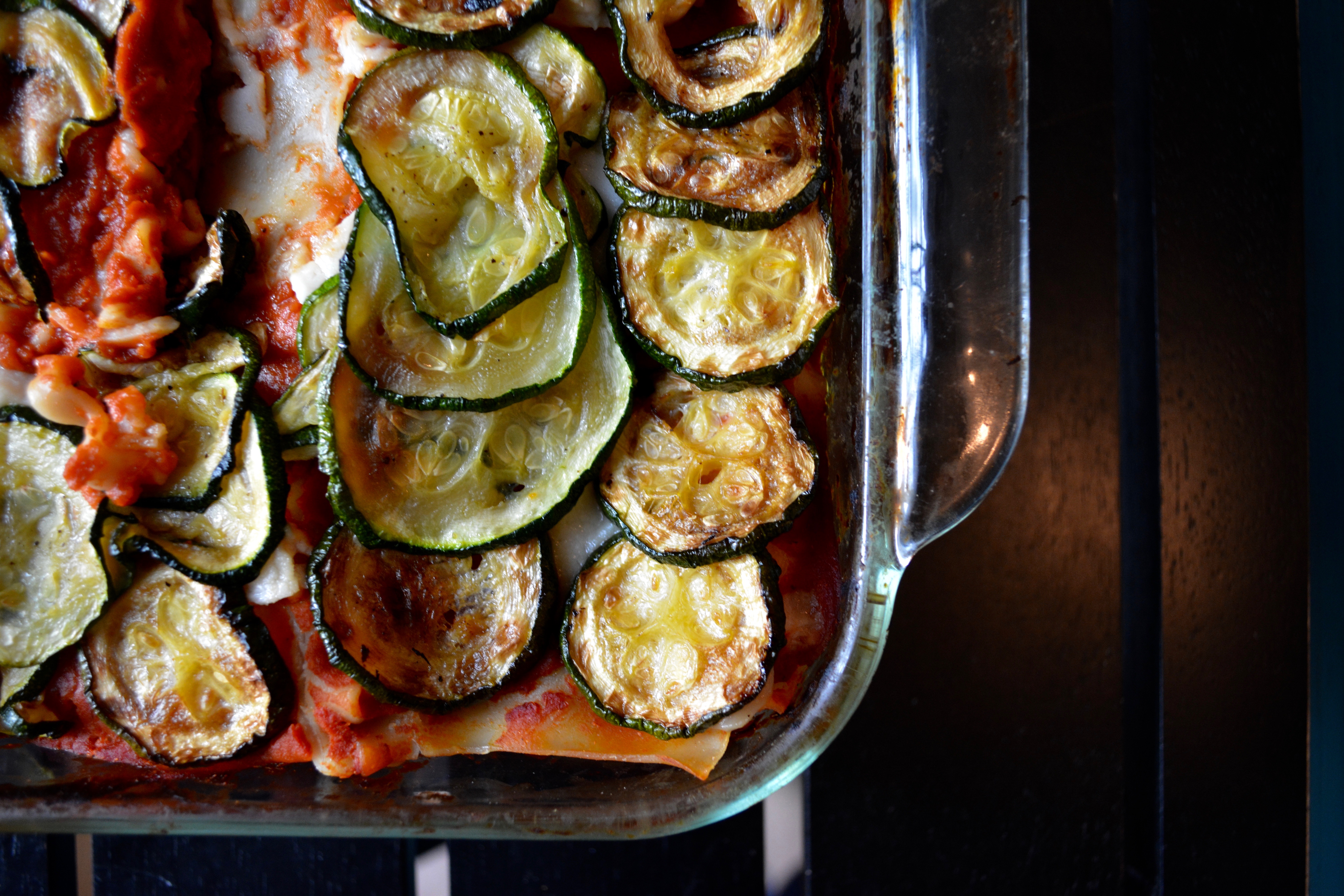 Take this food blog for instance. I almost didn't make it happen. My lack of confidence got in the way. I had thoughts like…
Who am I to make a food blog?
I'm not a good writer.
How dare I call myself a chef?
What will people think of the name?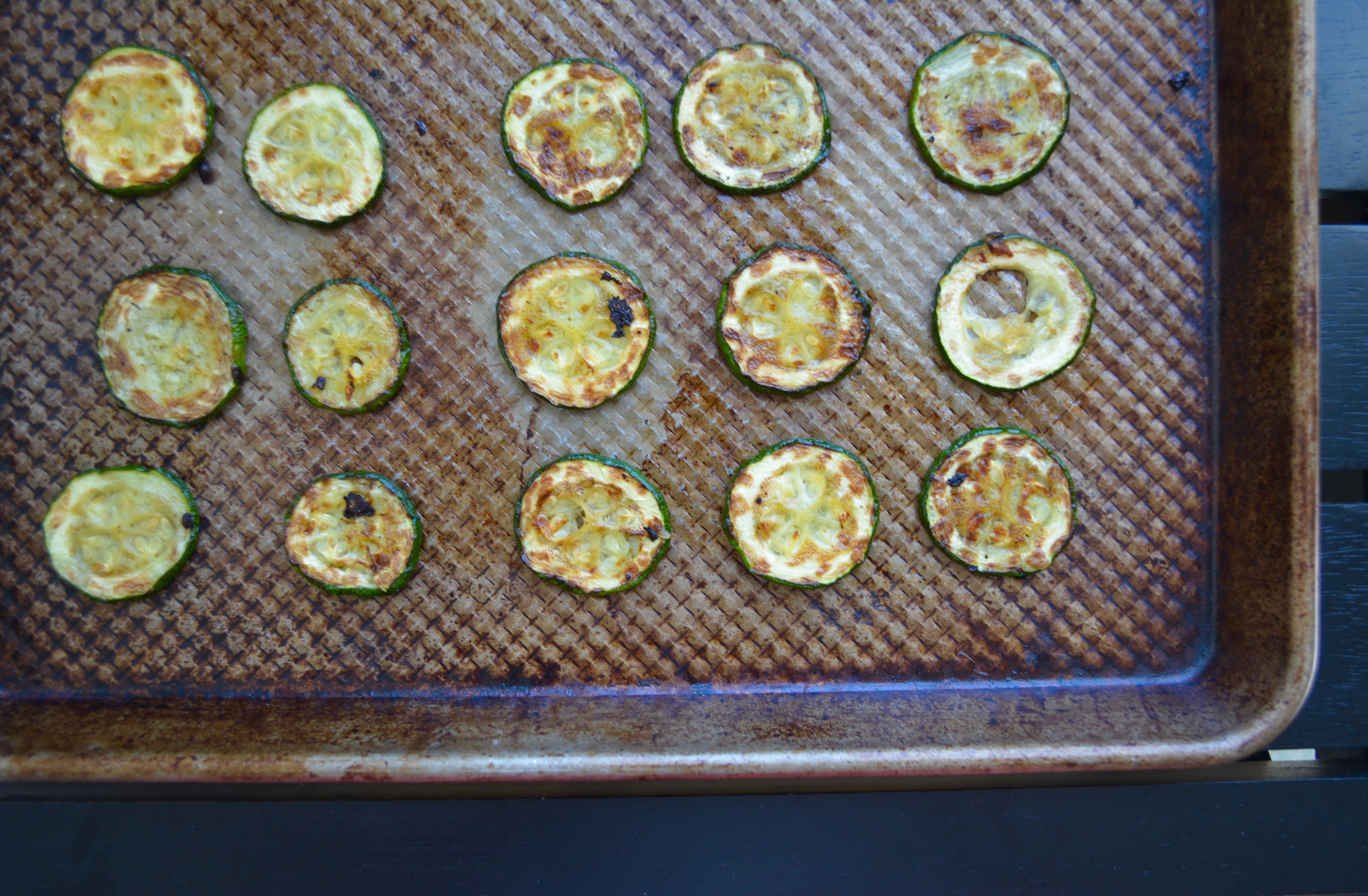 My rational side has responses to all of those insecurities…
Well, who am I not to make a food blog? Seems like everyone is doing it these days.
You don't have to be perfect, you just have to try, and hopefully you'll get a little better.
And I did go to chef's training. Of course, I wouldn't insist that Anthony Bourdain say, "Yes, Chef," when I ask him to do something. Mainly because Anthony Bourdain and I have never met.
When it comes down to it, I know how to cook and Chef Maribeth is a catchy and fun name! Not to mention I look good in an apron.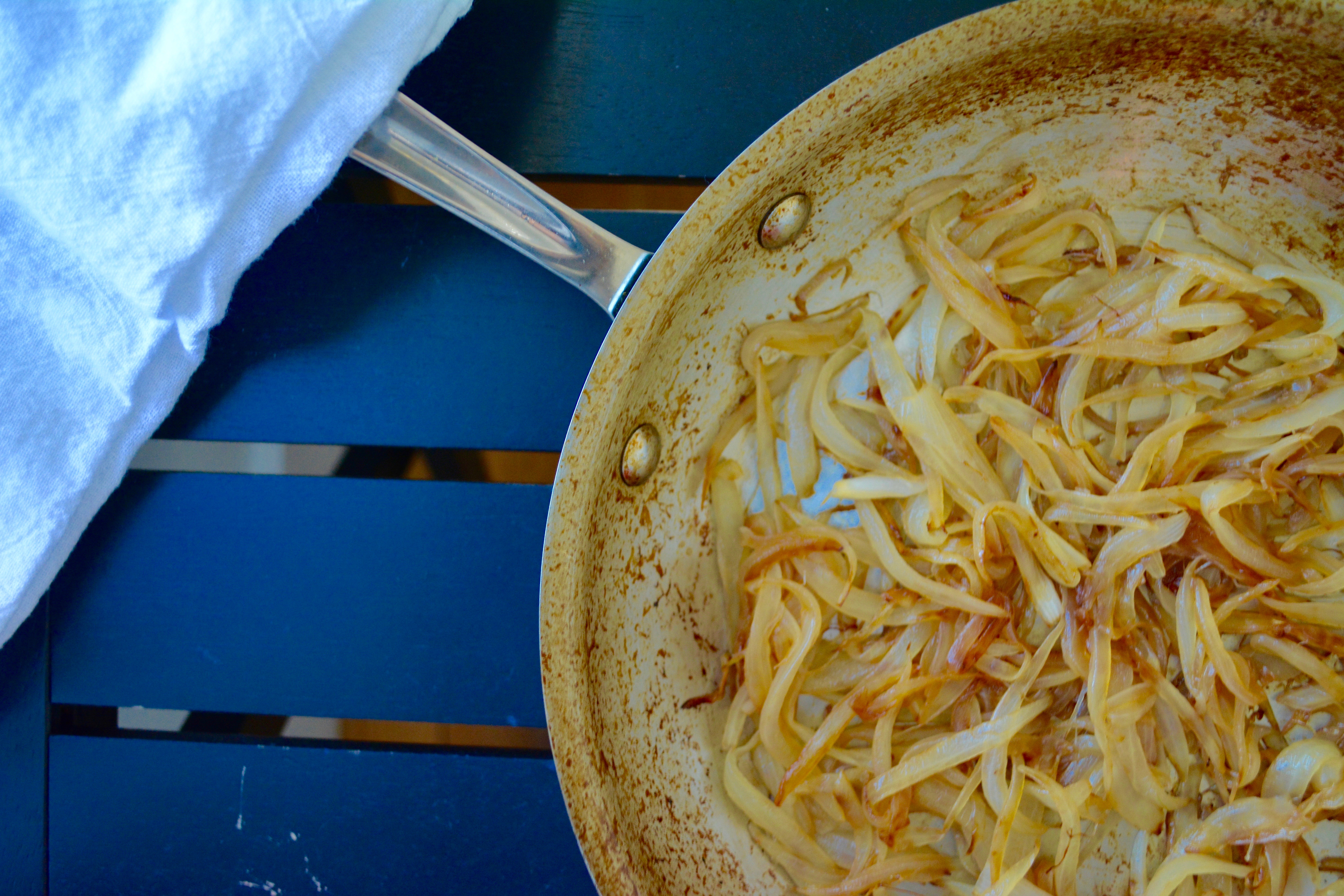 When my confidence is lacking, I ask myself – what's really bothering you? Maybe it's because I am moving across the country in a few days and haven't started to pack. Maybe it's because instead of packing I choose to make myself a lasagna.
When it comes to confidence, my motto is – fake it til you make it. It got me through the first few counseling sessions in grad school (don't worry, they were mock sessions), it got me through the first week of culinary school when I didn't know how to make rice, and it got me through the first weeks of working in a restaurant when I had no idea what a sunchoke looked like.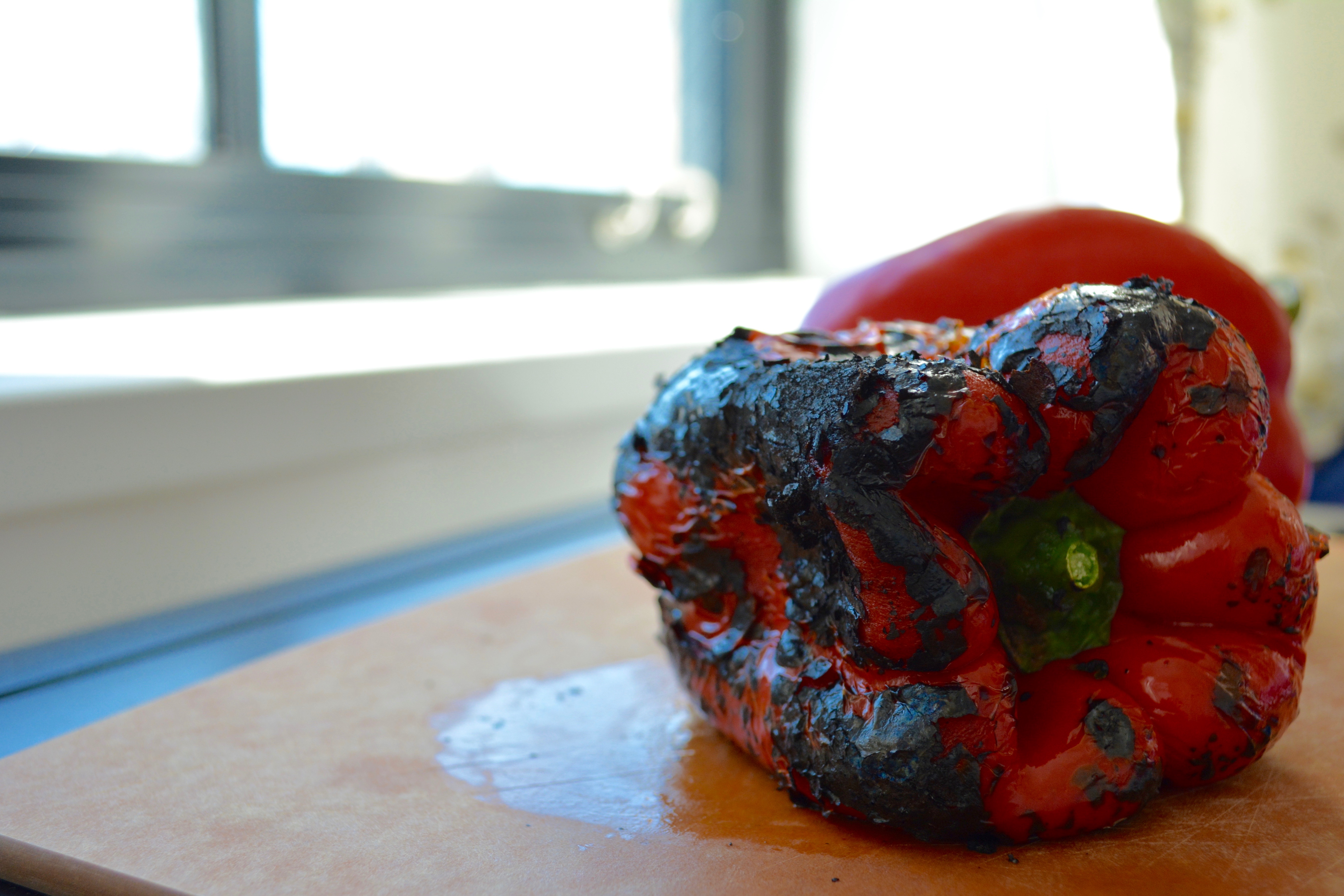 My other motto is – no one really gives a sht. No one cares what you name your blog, what angle you take your photographs, or if the noodles are 30 seconds over done. For the most part, people are happy to see you try. People want to see you succeed. And what's even more than that – do you know how to make someone happy? Cook for them. Whether it's ramen noodles, or this lasagna, cooking brings joy to both sides of the parties involved.
If all else fails, just sing this song.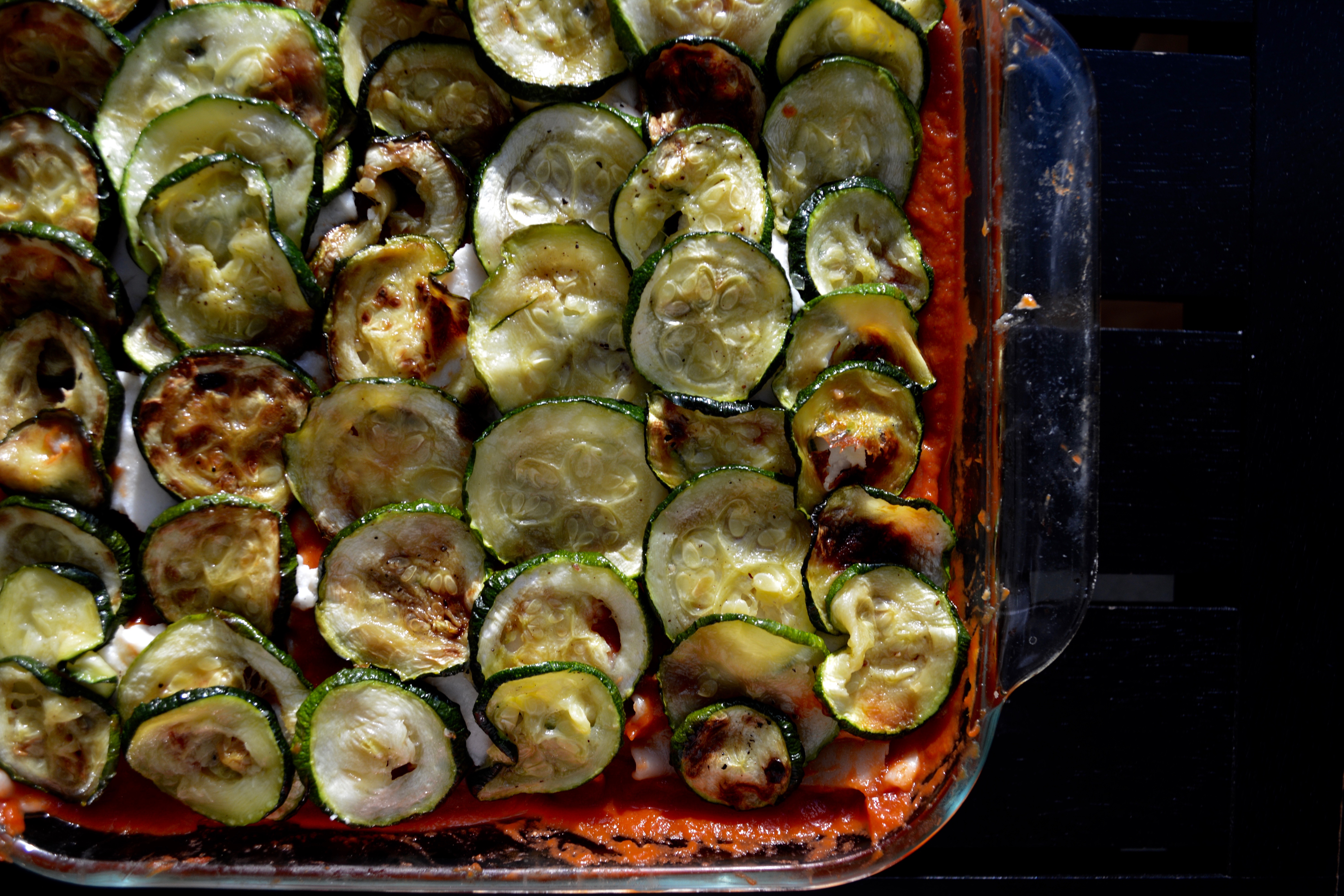 A few notes:
Vegan Cheese – Guys, it's good. It's gotten so much better in the last few years. I probably wouldn't choose to eat it on it's own, but even on toast or a cracker, it's good. In lasagna, it's great.

I used Kite Hill Ricotta and Follow Your Heart Mozzarella
For the ricotta, I recommend adding a few tablespoons of sauce and mixing it because it will be easier to spread.

Sauce – Save about a cup of pasta water. It adds depth to your sauce. I like a lot of sauce. Use your discretion on how much you think you need. The noodles will soak up a bit of the sauce, so put more than you think you need. I decided to make a quick sauce for this recipe because I wanted to cut cost since I was using higher quality cheeses.
Noodles – I love these gluten free noodles. I'm not GF, but I do like to mix it up and not depend so much on wheat. I've grown to like GF pasta more than semolina. It's more satisfying and keeps me full longer.
More on noodles – I've tried the "no boil" kind and was not a fan. I thought it left the lasagna mushy. I also recommend undercooking the noodles by at least a minute. They'll soften in the oven.
Vegan Lasagna
Serves 4 adults who over eat every.single.meal. Or 6 people who do not unbutton their pants after a meal.
Ingredients:
About ¼ cup of olive oil
2 small eggplants
3 small zucchini
1 large yellow onion
1 red pepper
1 package of lasagna noodles
3-4 cups of tomato sauce plus ¾ cup of pasta water
4 ounces of vegan ricotta
8 ounces of vegan mozzarella, shredded
Salt & pepper for seasoning
Directions:
Prep vegetables

Heat oven to 400° and line two baking sheets with parchment paper.
Slice eggplant and zucchini into ¼" rounds. Place in a single layer on prepared baking sheets. Brush with 2 tablespoons of olive oil and season with salt and pepper. Bake for 10 minutes, turn eggplant and zucchini, and bake another 10 minutes.
Place a large frying pan on very low heat with 1 tablespoon of olive oil. Sauté slice the onion and place in the heated pan. Add about ½ a teaspoon of salt. Let the onions caramelize for 20-30 minutes on the stove, stirring occasionally.
This step can only be done with a gas stove; I have yet to try it in the oven. Thinly coat the pepper in olive oil. Directly place the pepper on the flame, rotating every few minute (with tongs!) until the pepper is charred. Let the pepper cool, peel off the black skin and remove the stem and seeds. Cut the pepper into a medium dice. The kind in the jar work perfectly fine.

Prepare your sauce – no shame in canned. I love me some Rao's. I used crushed tomatoes with Italian aromatics and then used an inversion blender to smooth it out.
Prepare the lasagna noodles according to the package. Again, I recommend taking them out 1-2 minutes before they're done. Save a cup of water and add ½ – 1 cup to your heated sauce.
Cover the bottom of the lasagna pan with a thin layer of sauce and lay three noodles over it. Cover the noodles with more sauce. Add a layer of one vegetable. Repeat process, alternating cheeses and using a different vegetable for each layer. You should have 4 layers of noodles.
With the oven at 350°, cook the lasagna for another 20-30 minutes.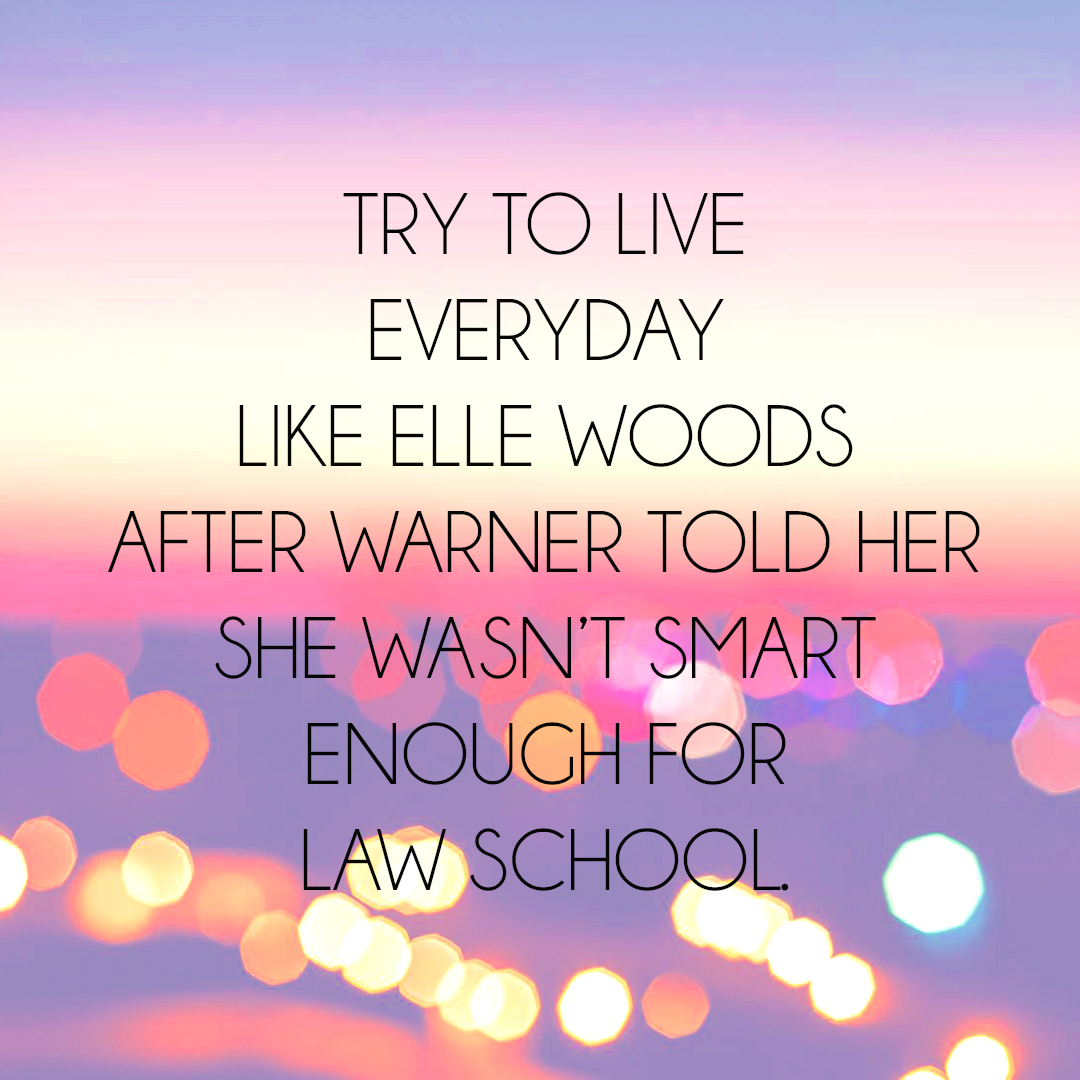 Source: https://www.pinterest.com/explore/elle-woods/
Question: Do you like the edge piece or the middle?
Apparently I'm missing something because everyone in my family likes the edge. I like the middle. Same goes for brownies.