Grilled Pizza
AKA – Confessions of a Pizza Snob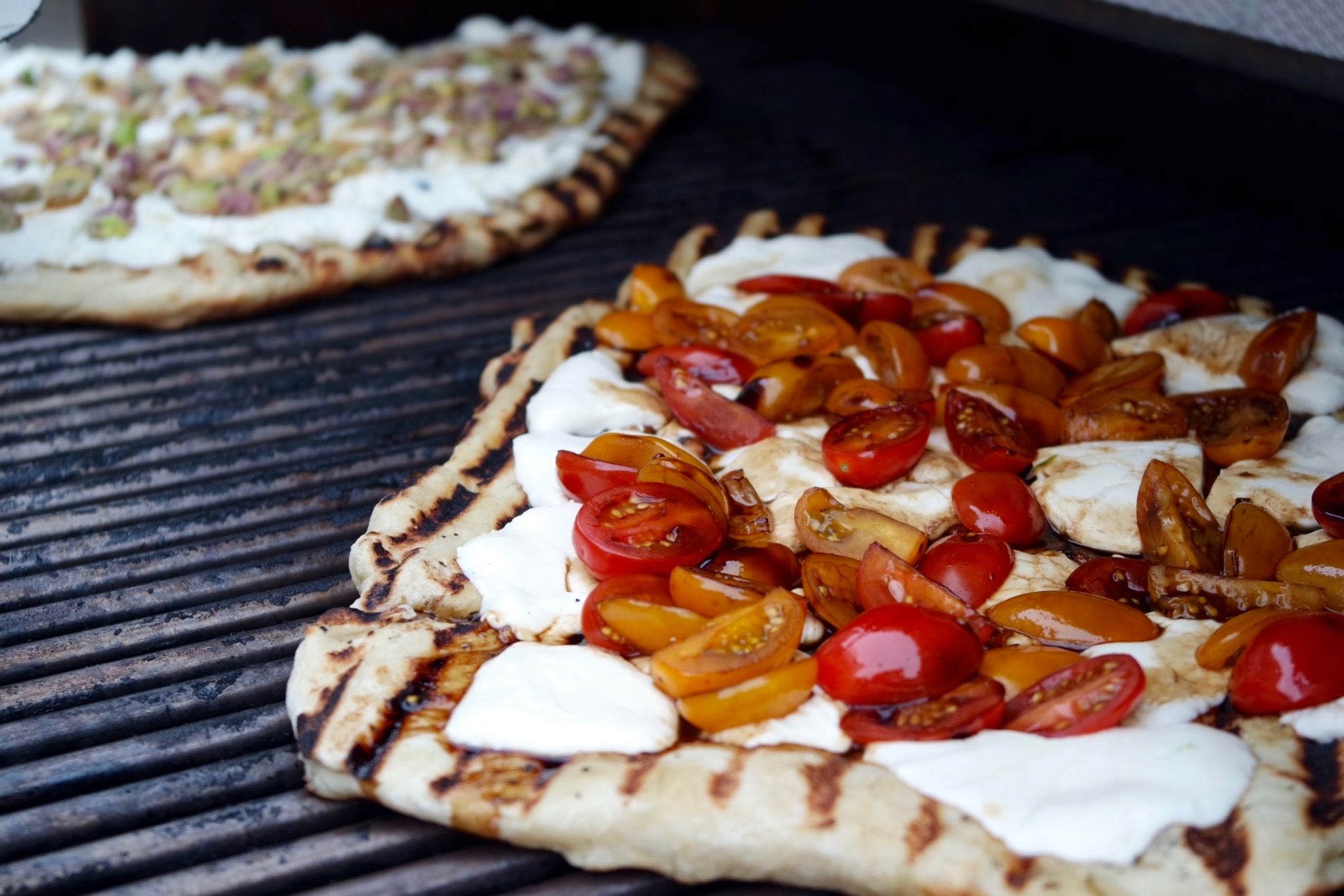 Don't put away that grill quite yet. I realize I'm really pushing the "summer isn't over" thing, but trust me here. People grill well into the chilly months, right? So I'm hoping that some of you will still be able to test this one out. Feel free to put on your Uggs for this post.
My husband says I'm a snob about very few things. At the top of that list is water, followed by hot, hot, strong coffee. I'm adding pizza to my Snob List. But if you take all three things I'm a snob about, it all comes back to the water. Water is the key to good pizza and the best water is from New York. Have you heard about the guy in Florida who ships in his water from New York for his pizzeria?
This isn't quite a recipe, but I wanted to share a family tradition. Every summer we have a pizza night. There is quite a bit of planning that goes into it and a lot of wine drinking that happens. We make about 6 pizzas and have some standards, but try to make a new one every year.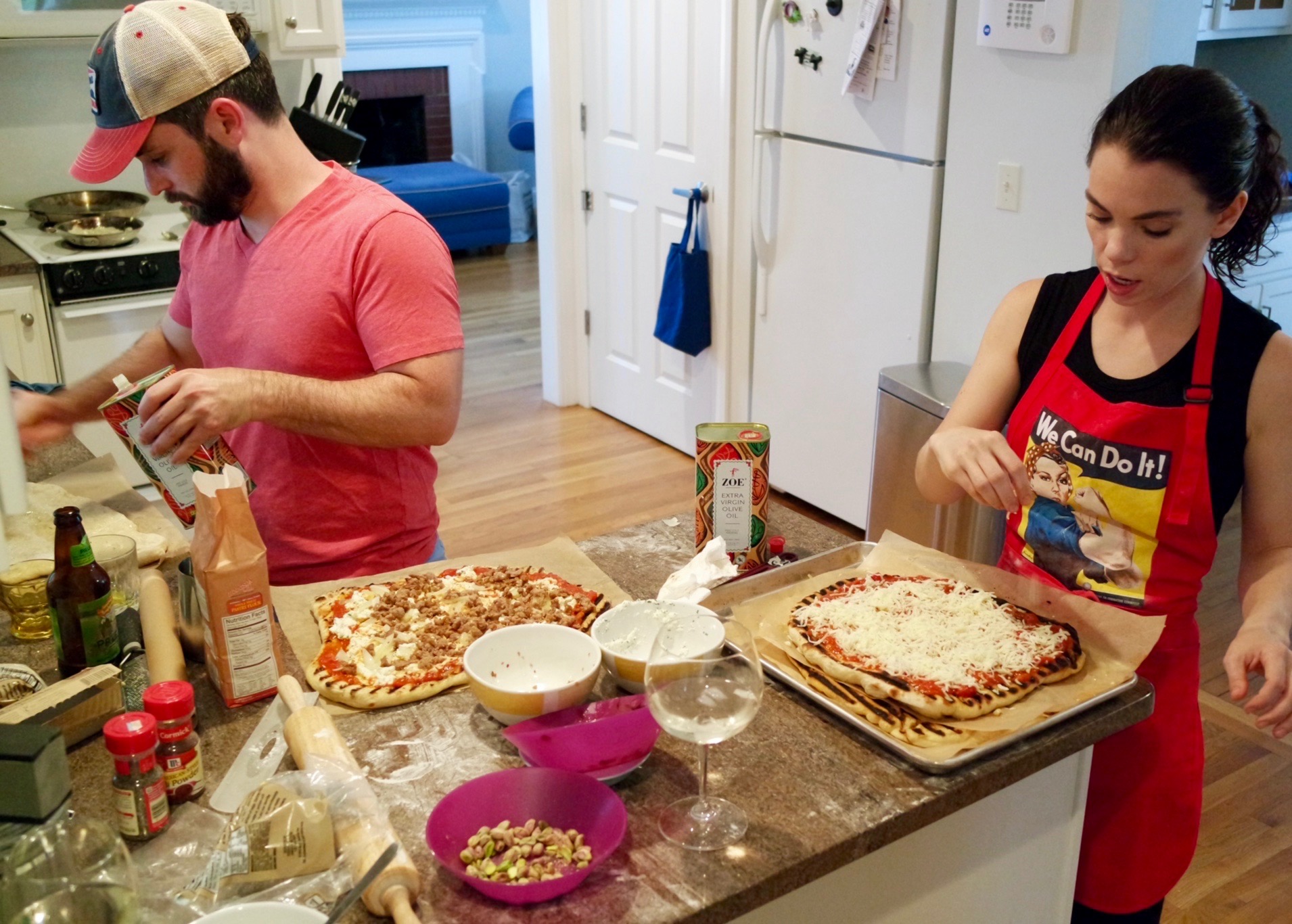 Pizza is a big deal in our family. Since moving, I've realized how spoiled I have been with good pizza. Of course New York is known for its pizza, but Connecticut isn't far behind. Pizza should have a thin crust, no doughy spots, a healthy amount of sauce, and don't go over board with the cheese. So basically just come to Des Moines, get a pizza, and do the opposite. (I'm going to get in trouble for that last sentence.)
Good pizza should make you feel like this: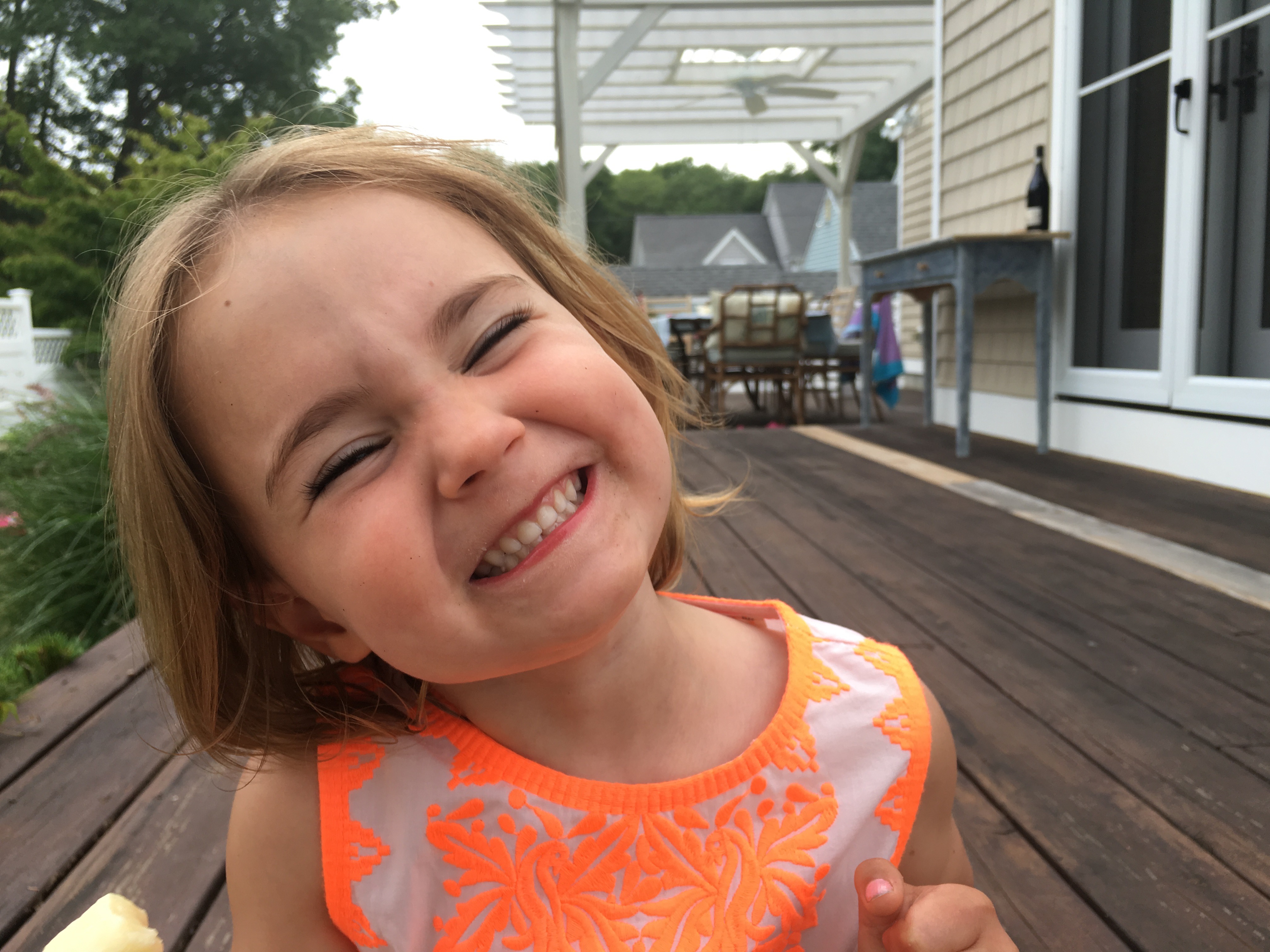 Some of our favorites:
Margherita
Fontina, parmesan, sautéed asparagus, arugula tossed in olive oil
Ricotta, pistachios, honey
Red sauce, sautéed green pepper, caramelized onion
Fresh mozzarella, cherry tomatoes, reduced balsamic
Nutella with fresh berries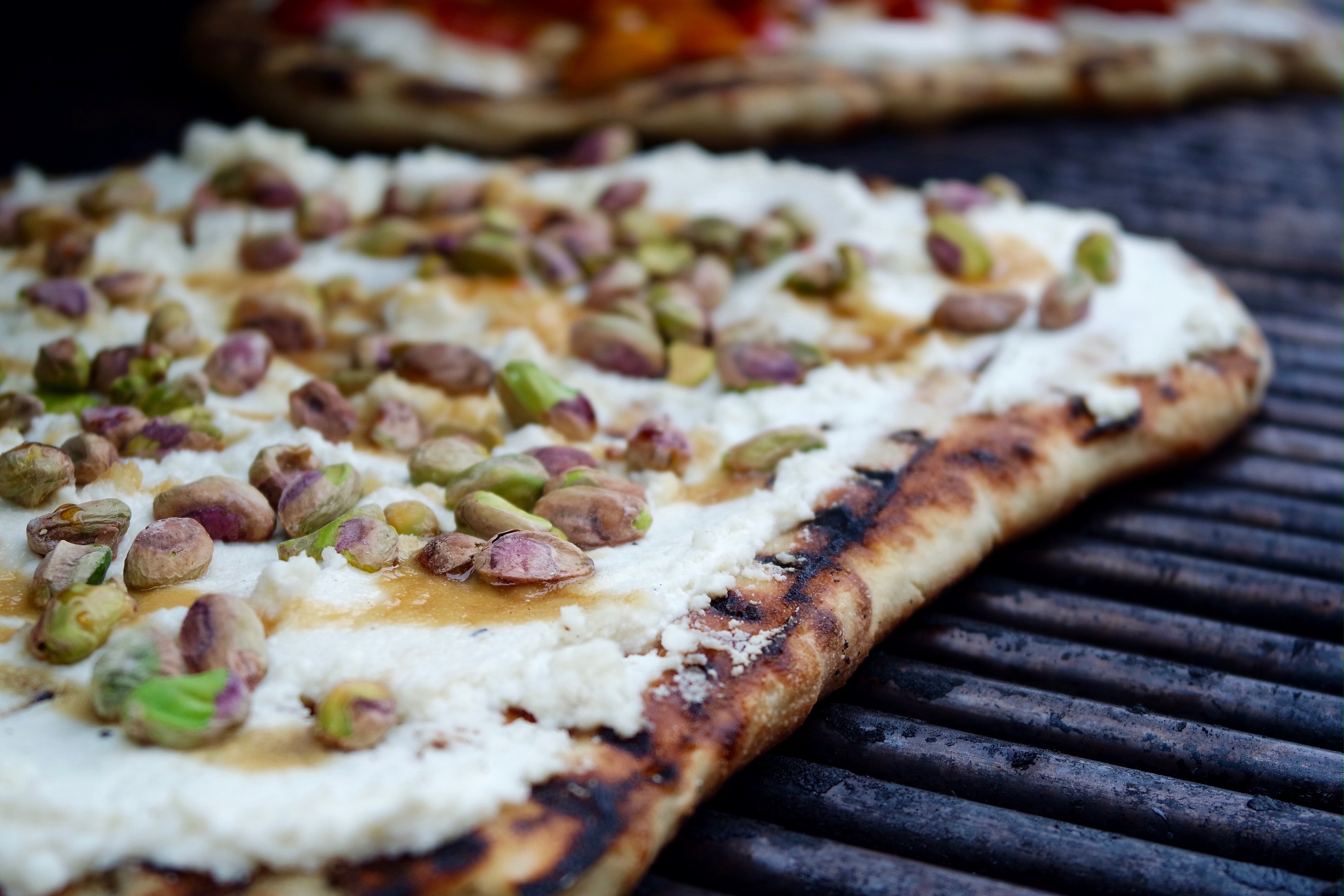 Some of my favorite pizza in New York:
Brado
Luzzo's
Zaaz – Though they're always changing names… they might be Holy Moly now
Dollar Slice – It's good, I swear! Especially at 12am 😉 Jon's favorite is on 46th and Lex
Pala – Great gluten free crust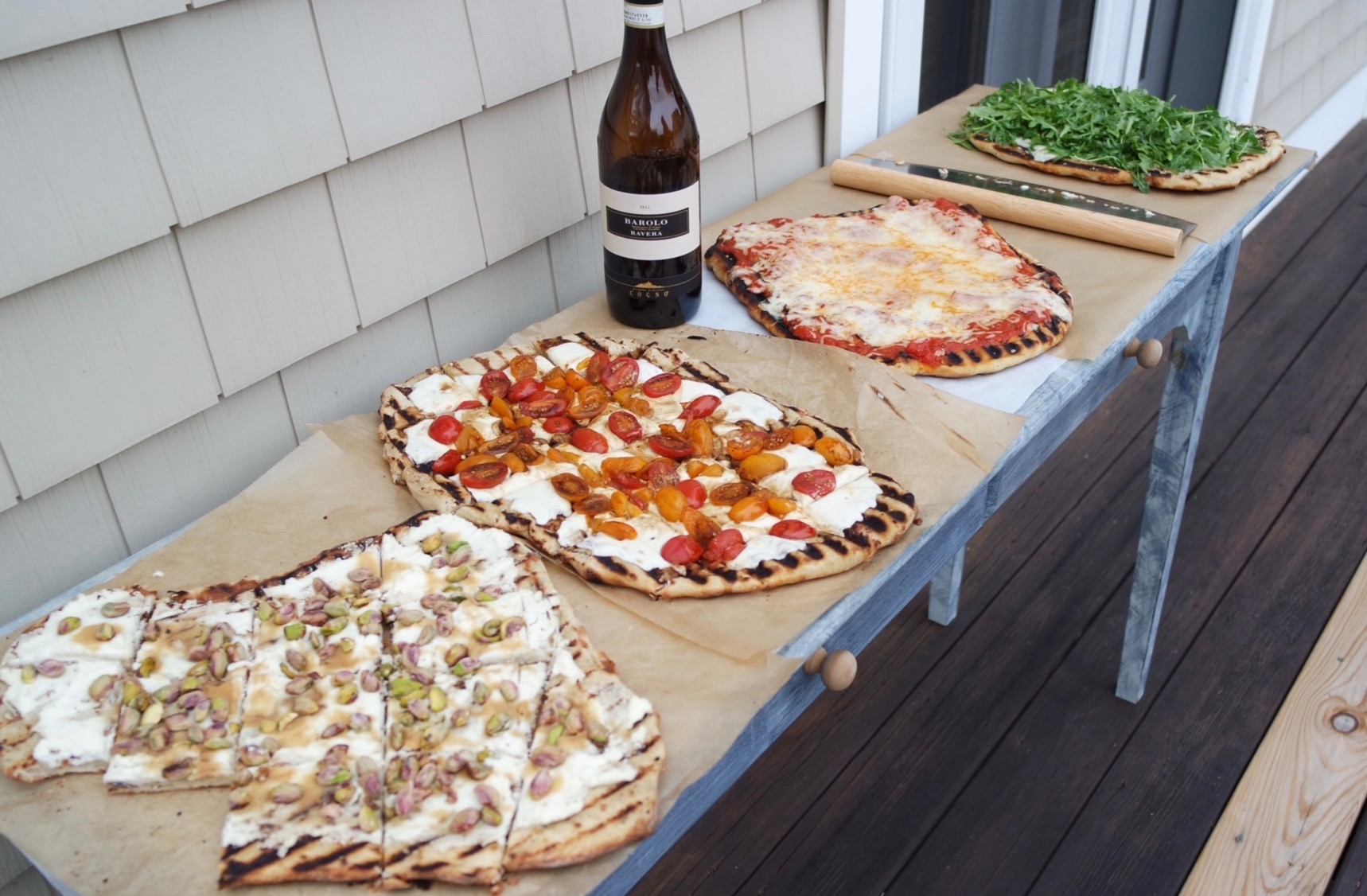 Jon usually mans the grill, so I asked him to explain how he does it:
The extremely manly answer is place an oiled crust on the grill for "about half a beer." (Cue eye roll from MB.)
The reality is that it depends on how hot the grill is – you want it 500 degrees, but most grills leak heat and don't get past 450, and definitely don't keep that temperature with the lid going up and down.  Even more accurate would be "about half of a beer at the speed you drank them when you were 22." (Cue another eye roll from MB.)
I'd say 3-4 minutes for each side, but mostly I cook until I get solid grill marks and the crust is stiff, not floppy.  Also – as the crust cooks it will get bubbles, don't open the grill specifically to pop them, but when it is open, you should pop them with a quick poke from any grill tool.
Here's what I interpreted…
Directions:
Heat the grill to about 500°
Roll out dough between two floured pieces of parchment paper.
Keep rolling, it needs to be thinner than that. (The pizza in these photos was a little too thick)
Take one piece of parchment paper off. Using a pastry brush, spread about 1 tablespoon of olive oil on the crust.
Place the oil side down onto the grill while quickly removing the parchment paper. Leave this side on the grill for about 3-4 minutes and close the cover.
While the bottom is cooking, lift the cover and carefully oil the topside with another tablespoon of olive oil. Pop any bubbles with a grill tool.
Flip the pizza, and grill for another 3-4 minutes.
Dress your pizza with your choice of toppings and grill for another 2-3 minutes, or until cheese has melted.
Question:
What's your favorite pizza?
What's on your Snob List?