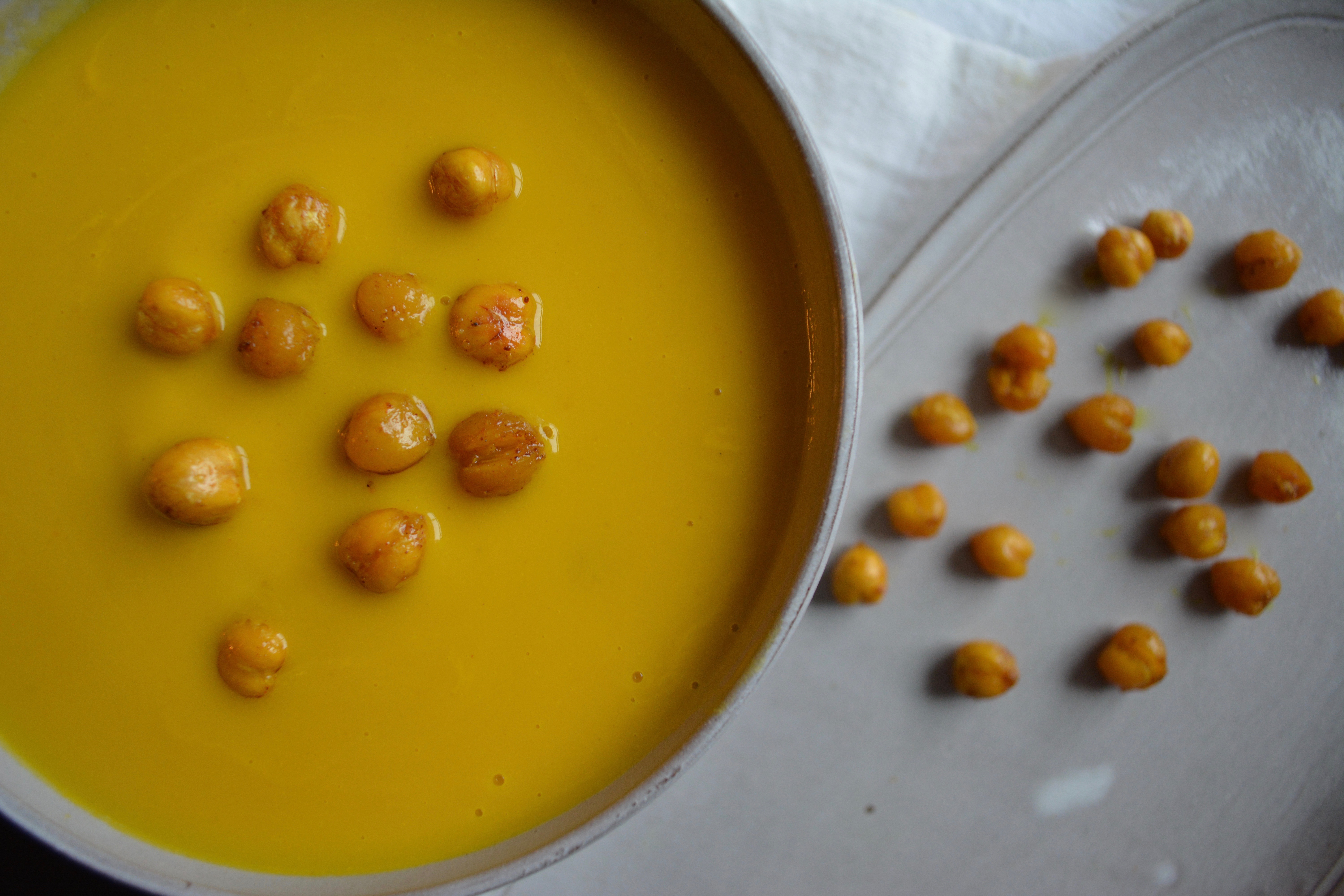 Creamy Butternut Squash Soup
(AKA Sunny Day Soup)
Des Moines has been gray. People didn't tell me about this. I heard about the cold, but I didn't know about the gray. I've lived in Ireland and this gray doesn't compare. Then again, I was clouded with Guinness and cheese, so who really knows.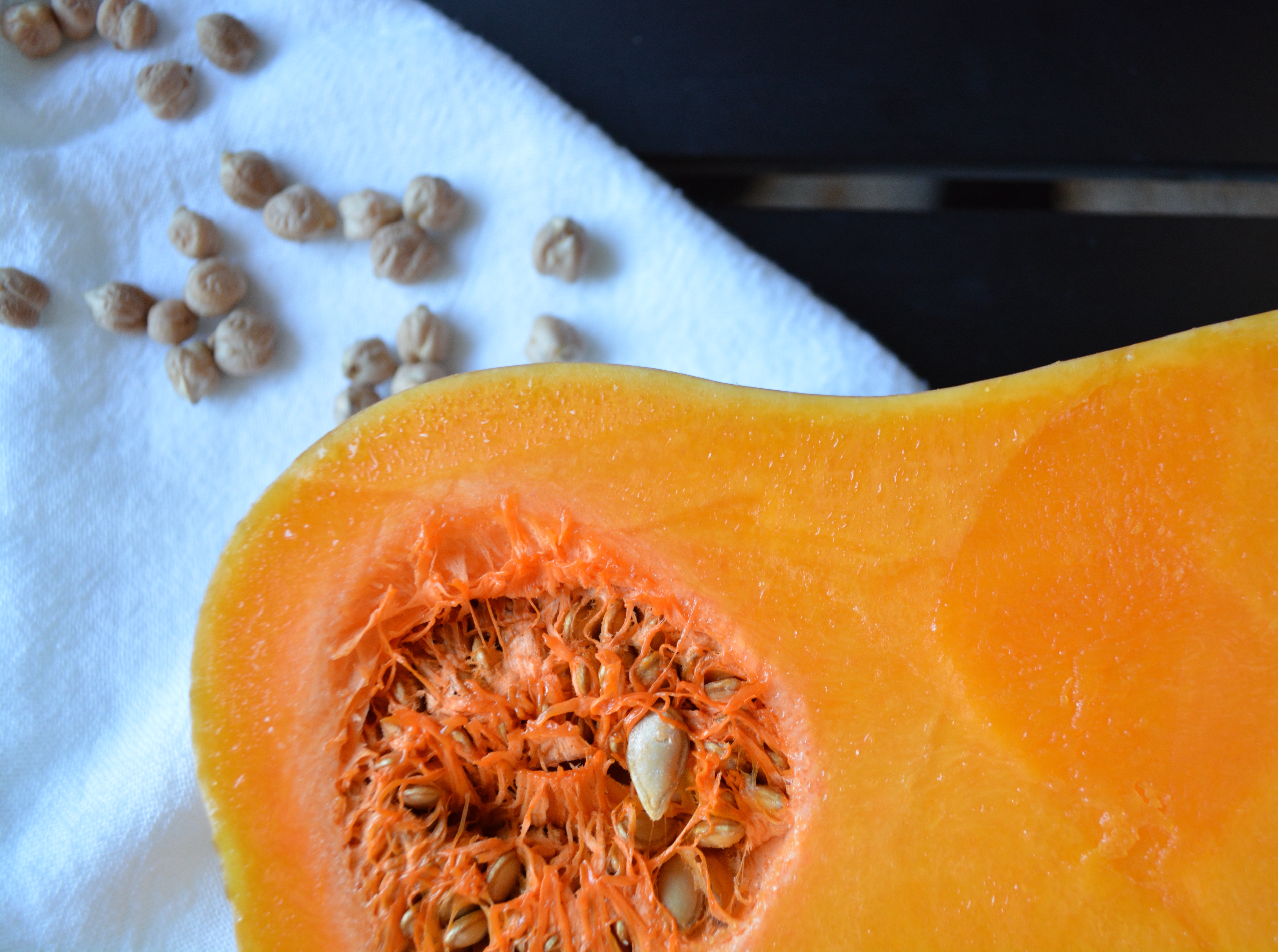 When gray days got me down in the past, I used to watch a clip from a popular 80s show where the kids put on a show for their parents' anniversary, lip syncing Ray Charles' "Night Time is the Right Time." If you're able to figure out the show, you'll know why I can't watch it anymore.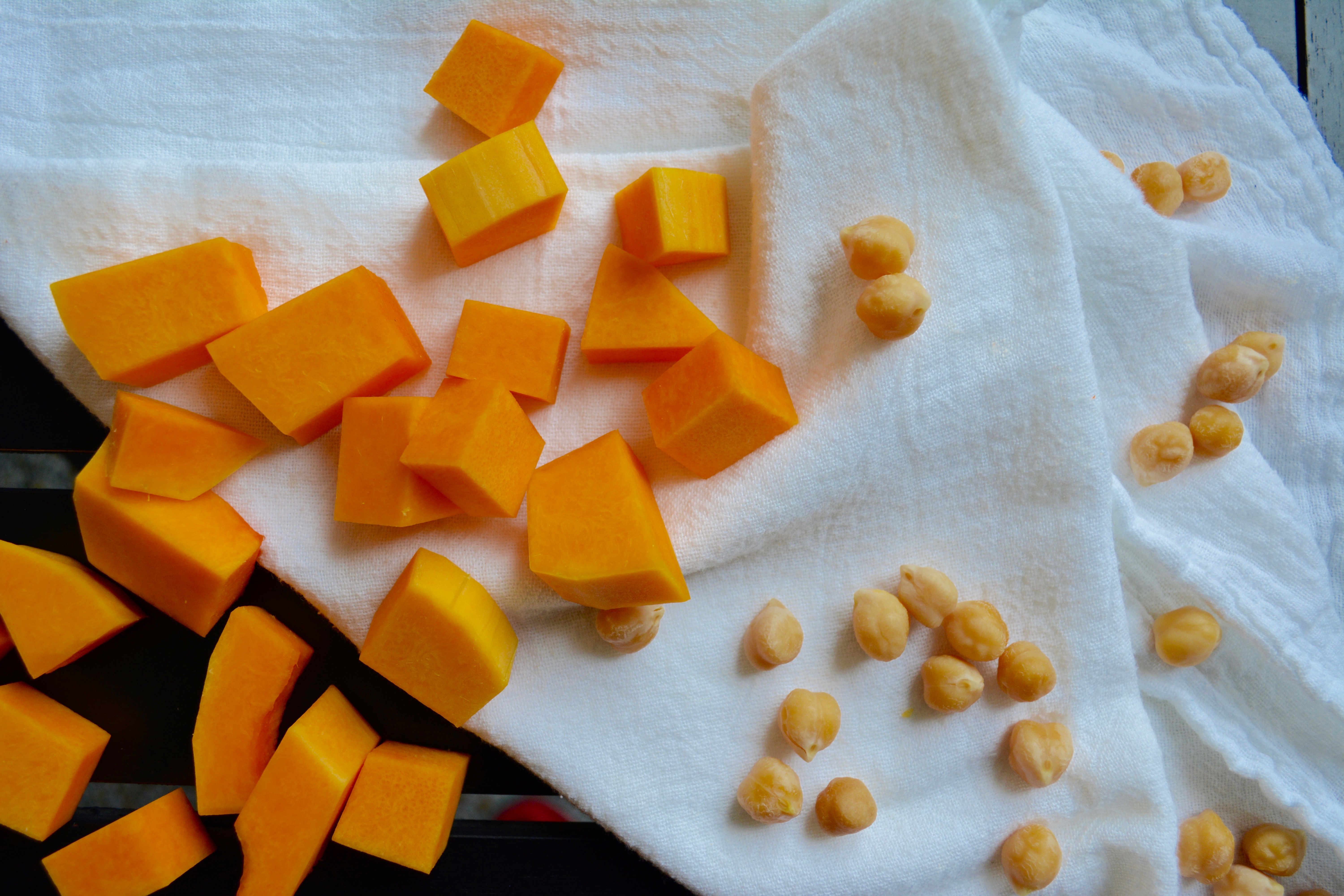 In fairness, New York got pretty gray at times. I learned some ways to help boost my mood. They're nothing groundbreaking, but they help me and I hope they help you too:
Spend time outside every single day – take your sunglasses off and take in the sunshine, even if it's behind a cloud – absorb that Vitamin D!
Get exercise – I make a point to exercise at least 4 days a week. It's a non-negotiable for me. It's so much more to me than keeping fit. I am miserable to be around without getting some sort of physical activity.
Meet a friend for coffee – It's hard for me to be blue around my friends, coffee, and croissants.
Get a therapy lamp – Okay, I haven't tried it myself, but some people love it and I'm thinking about getting one.
Talk about it – with a friend, partner, sibling, therapist, or parent. It's not complaining, it's just asking for a little support.
Cook for someone – cooking for people brings me so much joy.
Now I also have this soup to help with the grayness. When I studied at NGI they had a full day of soup making that was life changing. (Yes, I went that far and I'm not taking it back.) It was called "Creamy Soup Practicum," and we didn't use a drop of cream. We used several different methods, such as potato, oats, and butter. I thought the butter version was the best, but you really don't need it. It certainly adds an element of richness, but it's still delicious without the butter.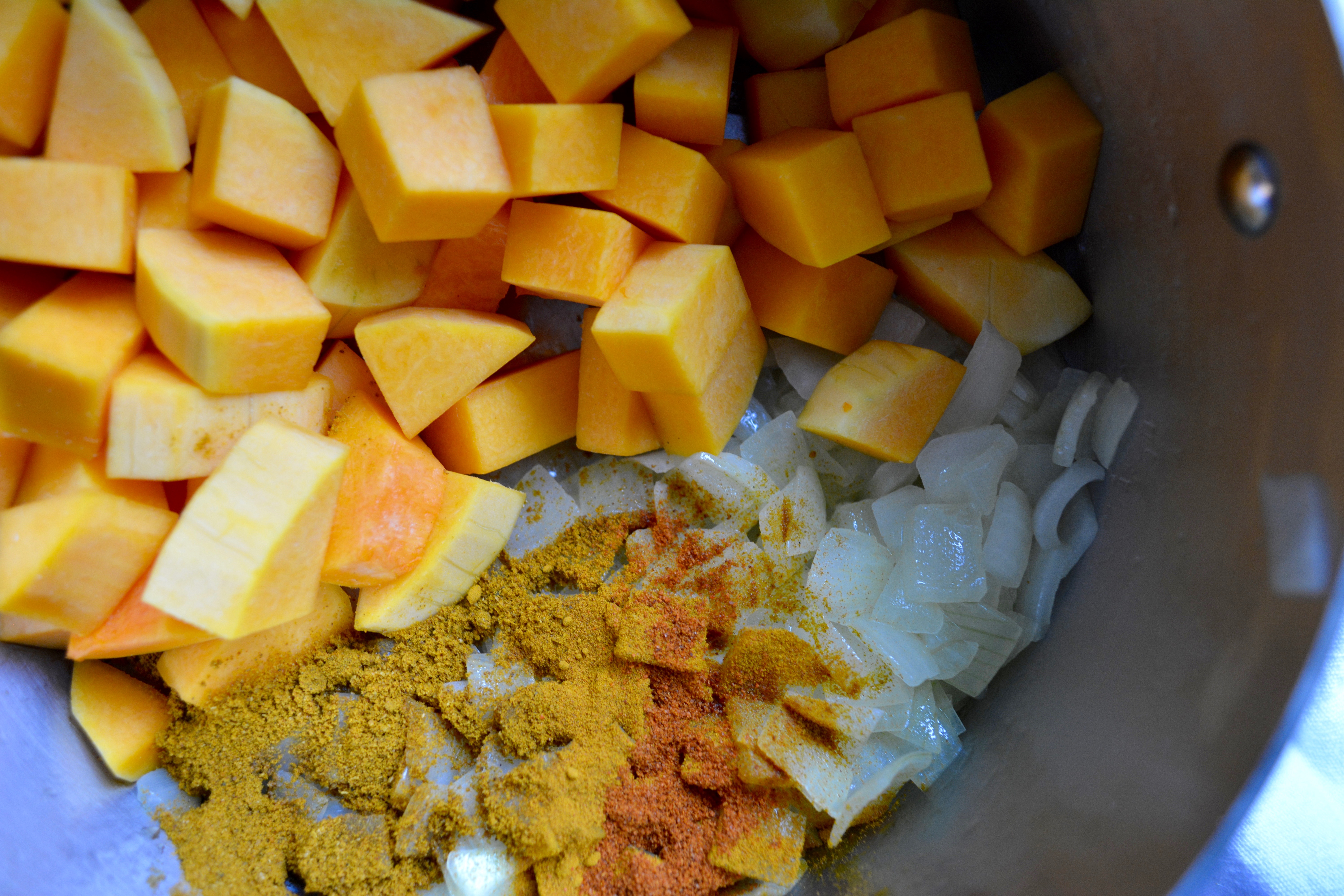 Creamy Butternut Squash Soup
(Method adapted from NGI)
Serves: 4

Ingredients:
1 small yellow onion, diced
½ of 1 medium butternut squash, large dice (about 4 cups)
1-2 teaspoons of curry powder (I like Frontier)
½ teaspoon of turmeric
¼-½ teaspoon of cayenne pepper
4 cups of vegetable stock
2 tablespoons of cold butter (optional)
Salt
Directions:
Heat a medium size pot (4 quarts) on a medium flame. Add olive oil to cover the bottom of the pan, add the onion and ¼ teaspoon of salt. Sauté for about 5 minutes, or until translucent, stirring occasionally so they onions don't stick or brown.
Add the squash, spices, and ¼ teaspoon of salt. Cover the pot with a lid, stirring occasionally, for about 10 minutes, or until the squash is tender.
Add stock, bring to a boil, and then simmer for 20 minutes.
Scoop the soup into a high-speed blender with a ladle (you may need to do this in 2 parts). Blend on high for at least a minute, adding the optional butter while it's running.
Garnish with spiced chickpeas.
Curry Spiced Chickpeas
Ingredients:
1 ½ cups of cooked chickpeas, dried on a paper towel
1 tablespoon of olive oil
½ teaspoon of salt, separated
1 teaspoon of curry powder
½ teaspoon of turmeric
Directions:
Preheat over to 425° and line a baking sheet with parchment paper.
On the baking sheet, toss the chickpeas in the olive oil, spices, and ¼ teaspoon of salt.
Bake for 5 minutes, give the pan a shake and bake for another 5 minutes. Add ¼ teaspoon of salt, allow to cool.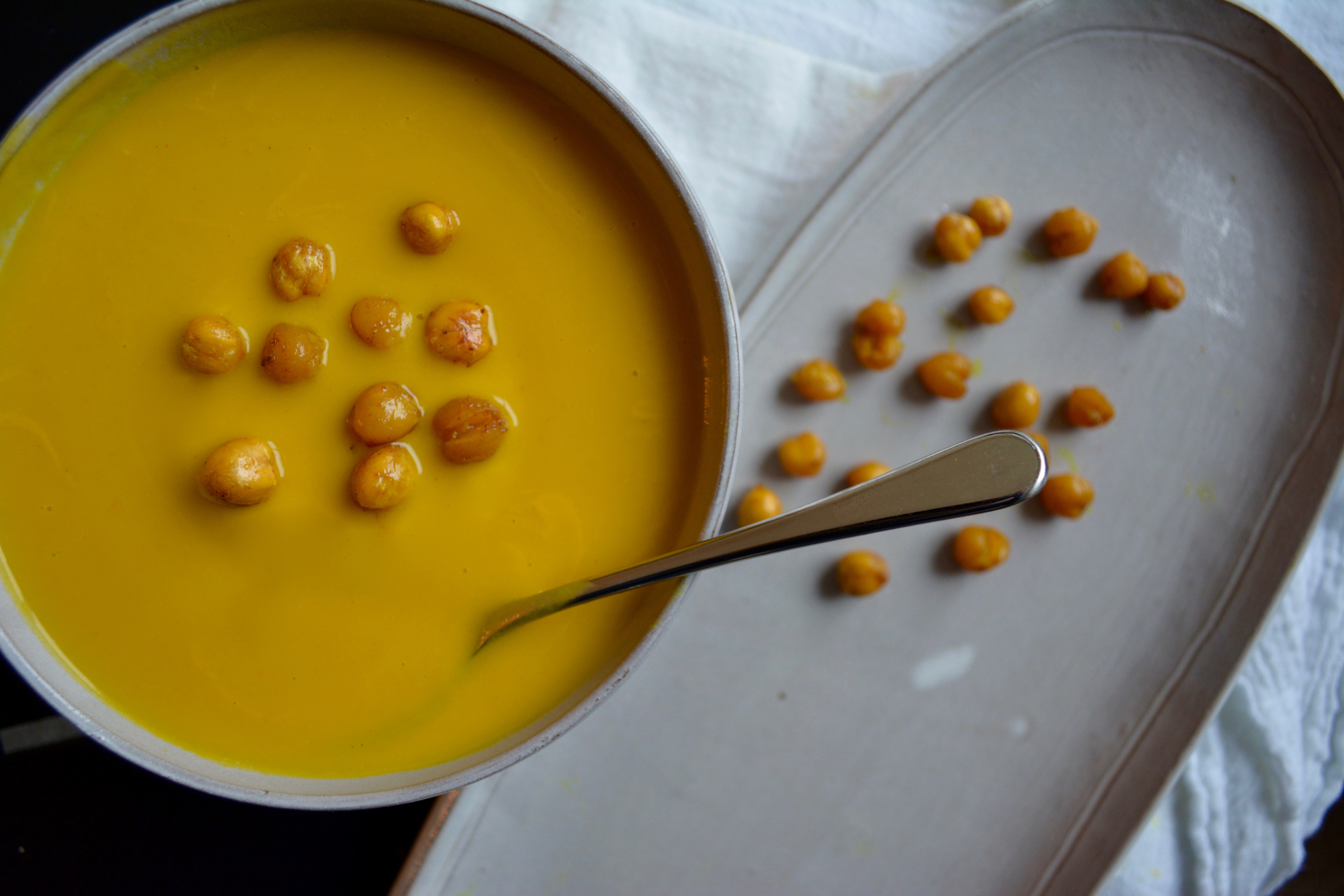 Question: What are some ways you combat winter grayness?