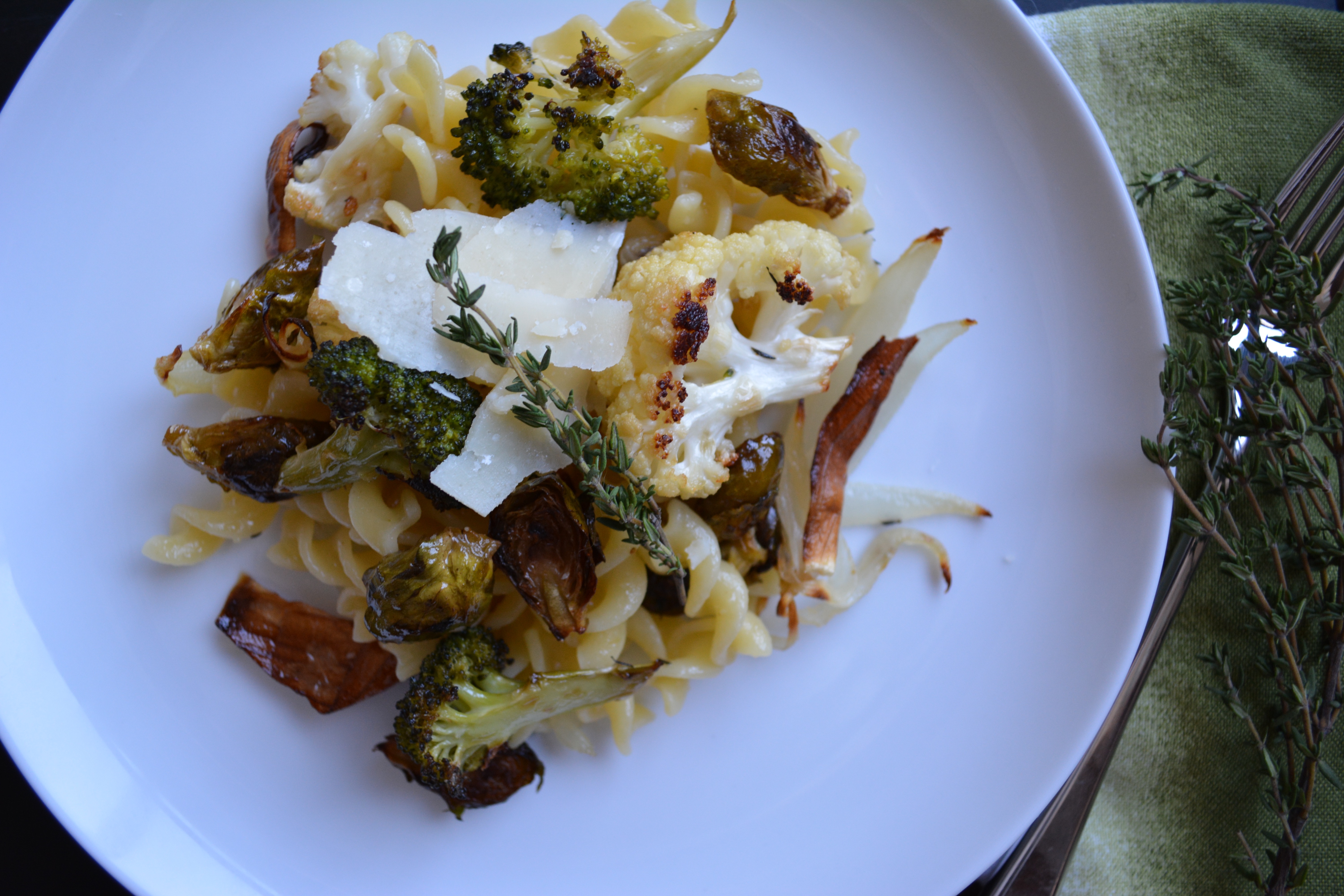 Cruciferous Pasta
(AKA FFD – you can ask my family what that means)
I get a lot of questions about my diet. The top questions are:
What I eat
Why I eat that way
If I can eat whatever I want (I wish!)
And of course the protein question (rolling eyes emoji, not even going to go there).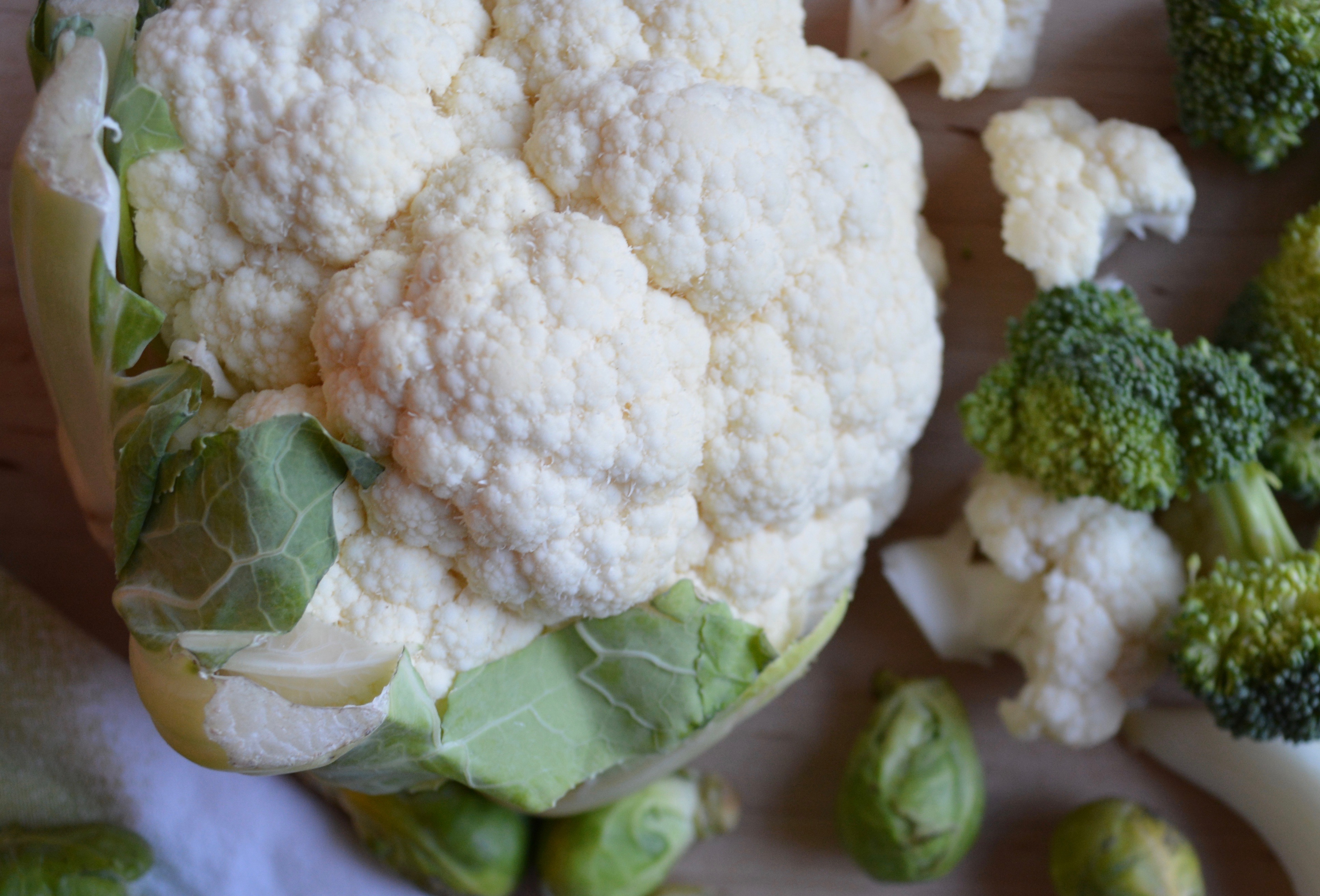 I received my Bon Appetit magazine in the mail last week, and the launch of their new series helped me define how I eat. If I were to describe my diet in one word it would be "healthyish." I really do love fruits and vegetables, they're some of my favorite foods! But if someone put a few doughnuts in front of me, I could polish them off.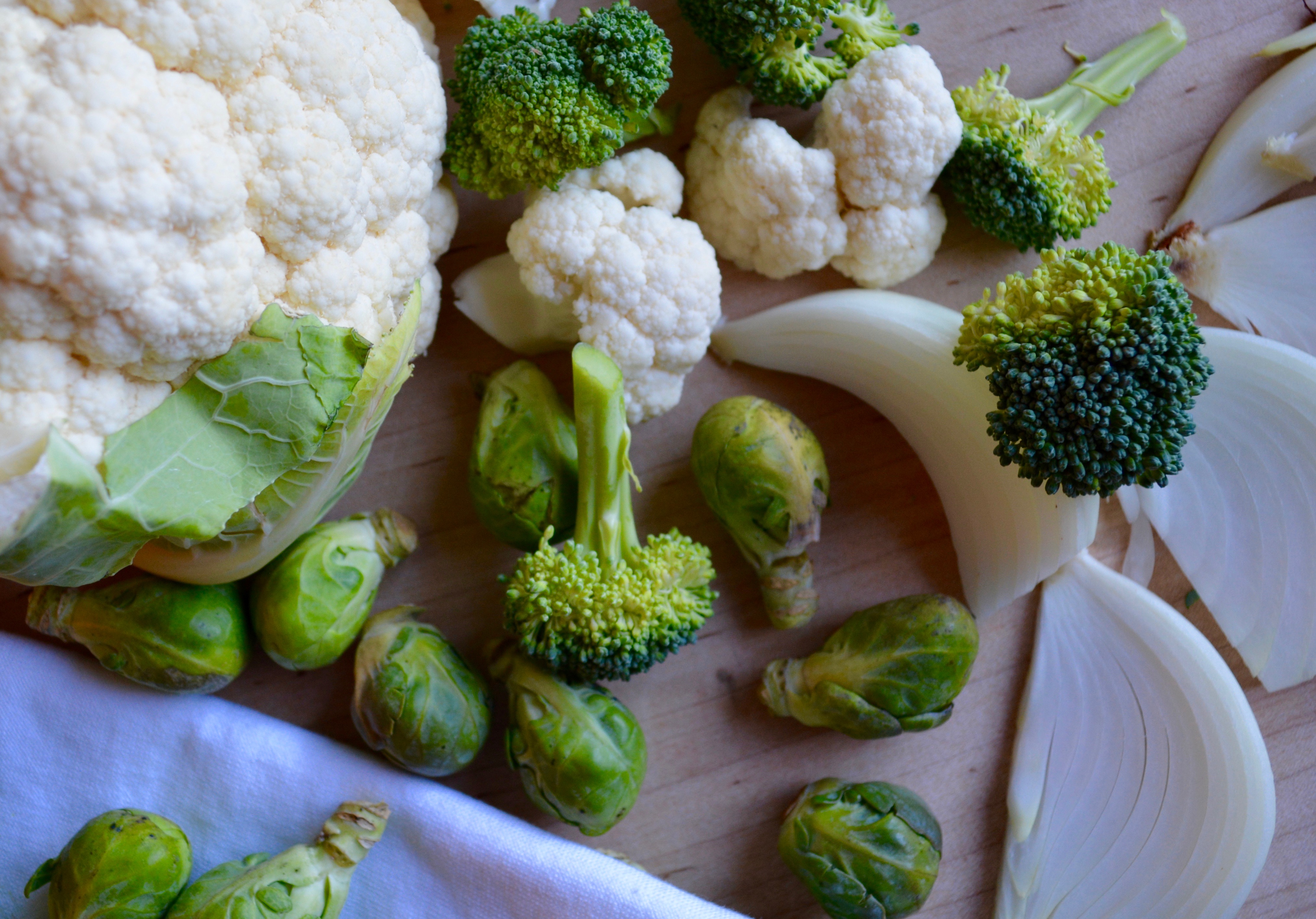 My cravings often change with the weather. In the summers I could have salads, smoothies, and Sauvignon blanc and be so happy. In the winter, it's a little more challenging to get in those veggies. I want to eat oatmeal for breakfast, toast with almond butter and jam for lunch, pasta for dinner, and clementines all day long. I don't do that, but some days I want to!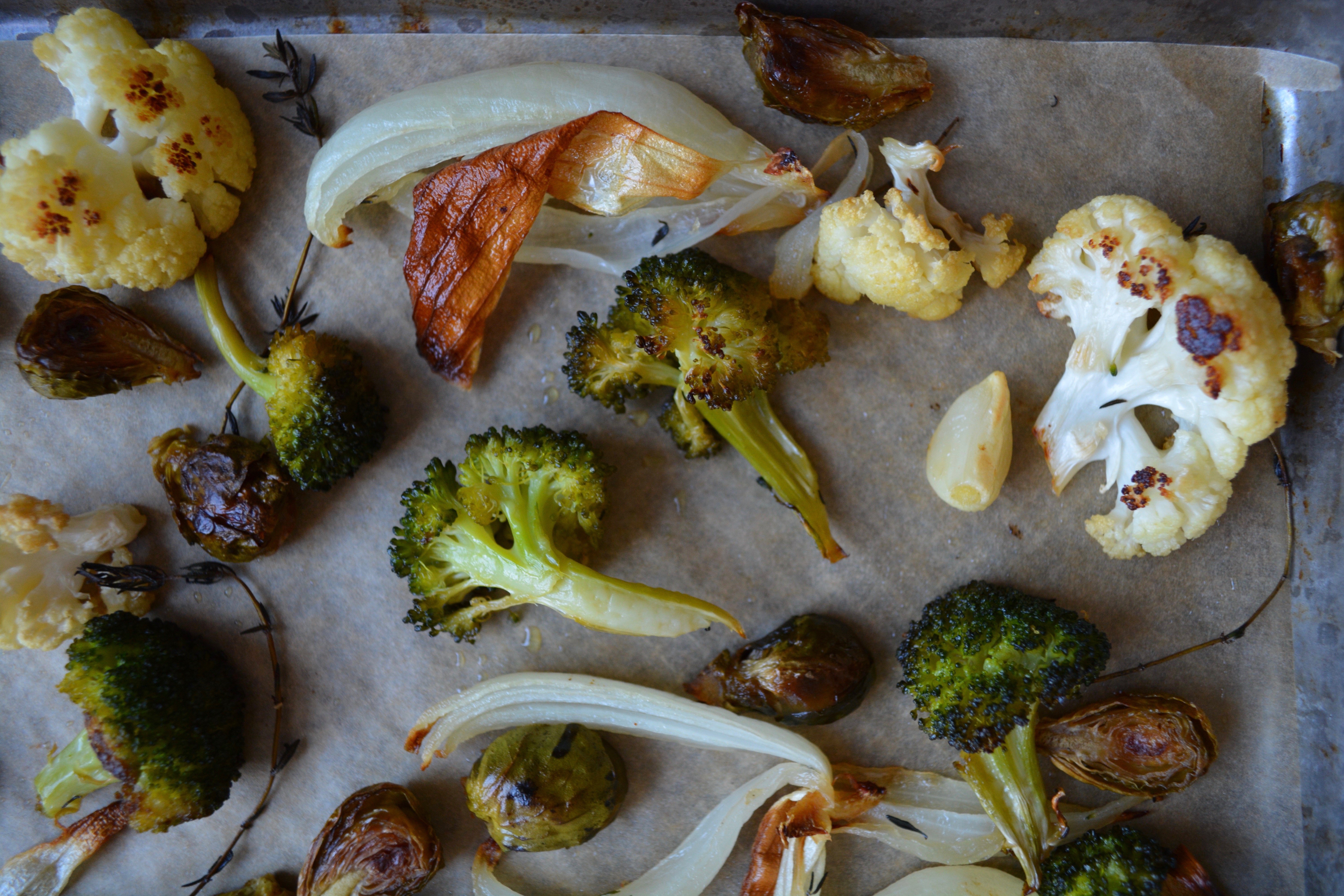 That's why this recipe is a perfect balance for those cold winter months. It's not the healthiest recipe (there's A LOT of oil in it), but I'm an advocate for adding the good in and not stressing over the not so good things. I can still eat pasta for dinner while getting in a bunch of veggies. While we're on the topic of good foods and bad foods – I hate to label foods in that way. Oil is definitely not "bad for you", but too much of a good thing is, well, too much! Remember when the kale obsession began? People were eating it for breakfast, lunch, dinner, and even putting it in their GD margaritas! Some people ended up messing up their thyroid.
As Oscar Wilde said, "Everything in moderation, including moderation."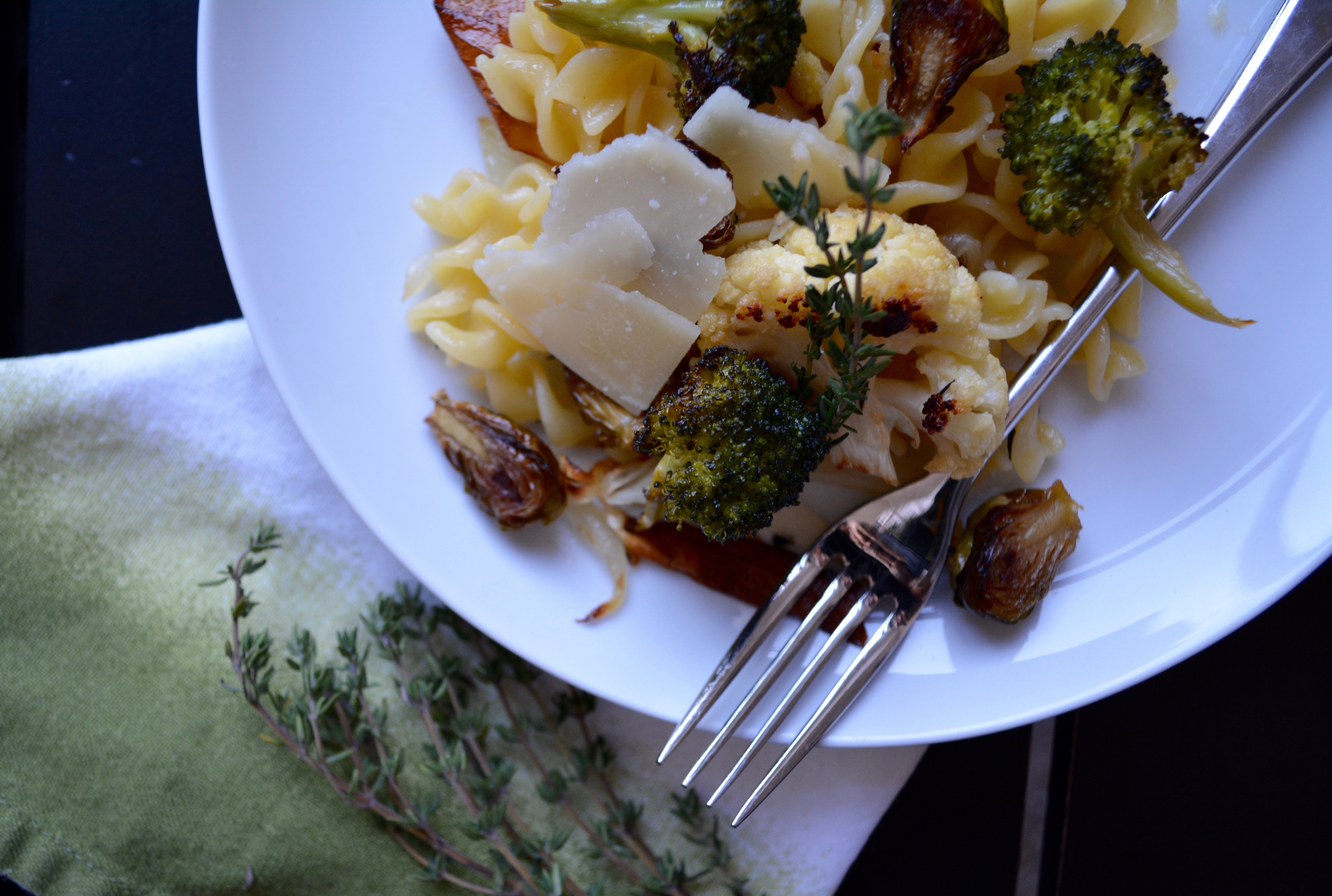 Cruciferous Pasta
Serves 4-6 people
Ingredients:
¾ a cup of extra virgin olive oil, separated
1 medium yellow onion, sauté slice
2 cups of brussel sprouts, sliced in half
1 small head of cauliflower, cut into small florets
1 medium crown of broccoli, cut into small florets
6 sprigs of fresh thyme
5 whole cloves of garlic
1 ½ teaspoons of salt, separated
½ teaspoon of ground pepper
1 pound of pasta – I prefer fusilli
Optional – red pepper flakes and shaved parmesan for garnish
Directions:
Preheat the oven to 425° and prepare a large baking sheet with parchment paper. In a large mixing bowl, toss the onion, brussel sprouts and cauliflower in ¼ cup of olive oil, ½ teaspoon of salt, and ¼ teaspoon of ground pepper. Spread the vegetables out evenly on the baking sheet and top with garlic gloves and thyme. Bake for 25 minutes, stirring halfway.
In the large mixing bowl, toss the broccoli florets in ¼ cup of olive oil, ½ teaspoon of salt, and ¼ teaspoon of ground pepper. Add the broccoli to the baking sheet with the brussel sprouts and cauliflower, bake for another 15 minutes or until the vegetables are crispy. When the vegetables are done, remove the thyme and garlic cloves (or keep the garlic in there if that's you deal, I know it's mine).
Note: In the remaining 5 minutes top the vegetable tray with about ¼ cup of parmesan, if you're using it.
While vegetables are roasting, cook the pasta according to the directions. When the pasta is finished add it to a large bowl and stir in the remaining oil and salt. Add the roasted vegetables to the bowl of pasta and toss well.
Garnish with red pepper flakes or shaved parmesan. Add salt, pepper, and oil depending on your tastes.
Question: What are your go to healthyish recipes?