Baked Tempeh with Mashed Potatoes with Vegan Gravy
(AKA An Open Post to Wedding Caterers)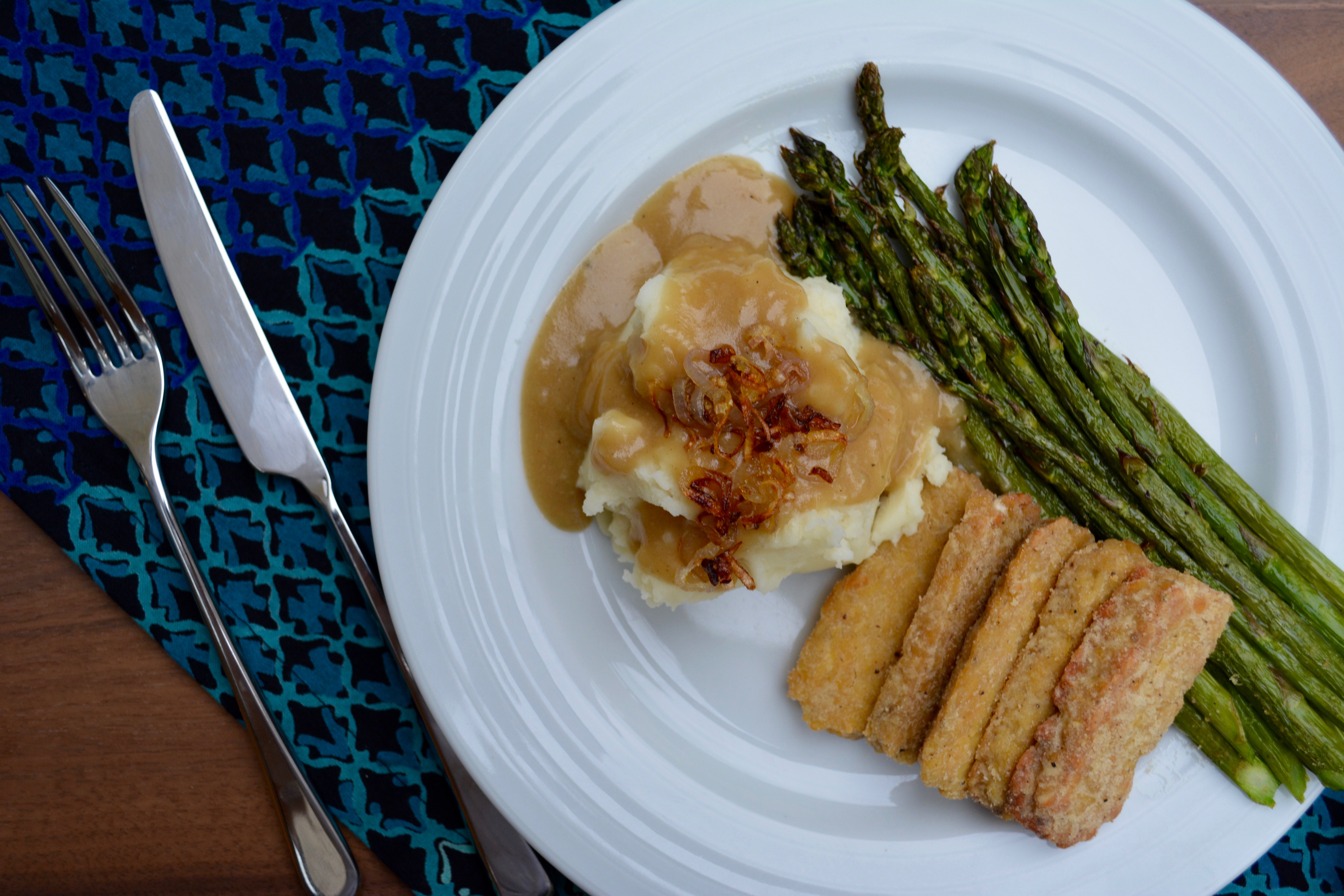 Happy Wedding Season! Or as I like to say to my vegetarian pals, Happy Get Drunk After Two Drinks Season!
Let me preface this post by saying – I don't go to weddings for food. I go to weddings to encourage and support my loved ones on one of their most significant days of their lives. The food is just a bonus. I've never had anything less than fun at a wedding. This isn't to call out or offend any of my friends on how shitty their wedding food was. This is a post to call out wedding caterers on how shitty their food is. Specifically their vegetarian option.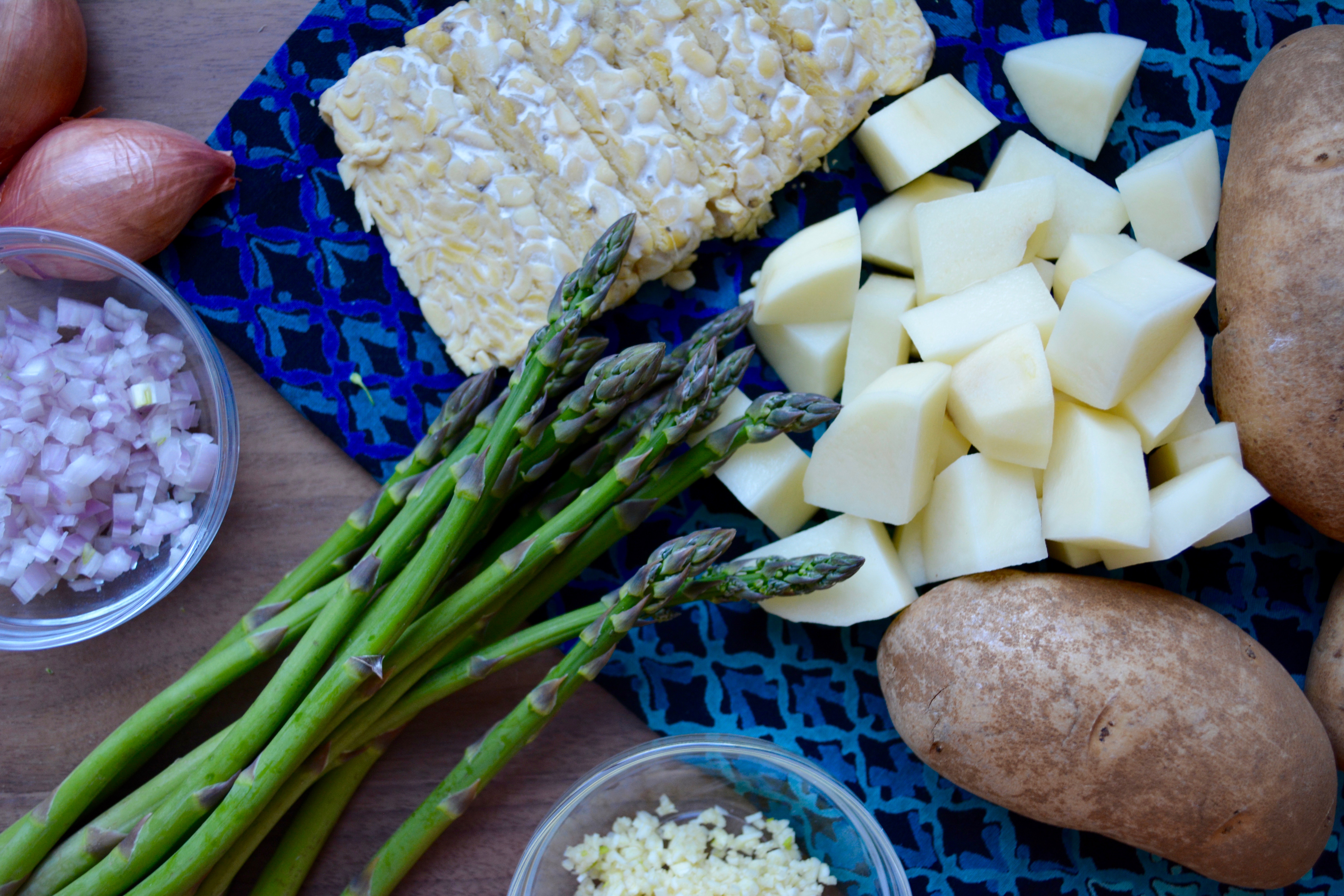 My husband and I have been to about 40 weddings together. Among all of those weddings I've traveled tens of thousands of miles, burned thousands of calories dancing, spent hundreds of dollars on hair and makeup, purchased 23 dresses (borrowed or re-wore the rest), sung at 7 weddings, given 4 speeches, lost 3 pairs of shoes, and had 2 good meals.
One of the saddest meals I had I think had under 300 calories – half a cup of rice, steamed carrots, and broccoli. No sauce. I had extra cake that wedding.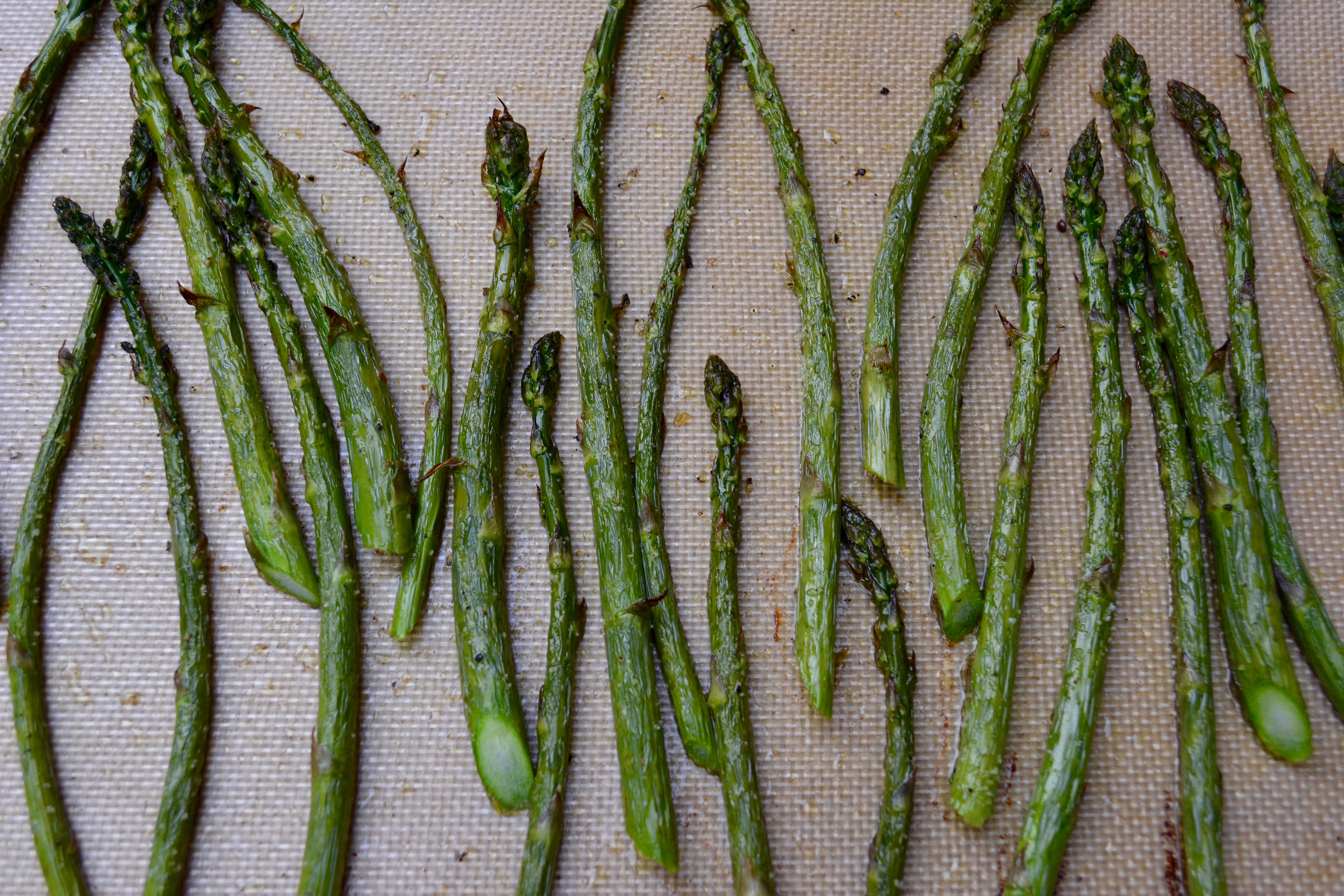 Here are some of my pointers to the caterers:
It's obvious when 30 minutes of the meal has gone by and everyone at your table is staring at you awkwardly because you still don't have your food. We know you're in the kitchen scrambling for something that could pass as a vegetarian entrée.
It doesn't have to be fancy. Play off one of the non-vegetarian meals that you are already serving. Steak frites? Serve us tempeh or tofu (PRESSED AND SEASONED PLEASE!) with the frites and whatever vegetable you've prepared. (My husband says you can just give him a plate of fries and he'll be good). Braised chiken and mushrooms? You can easily make a tempeh or white bean marsala.
A fresh vegetable – any fresh vegetable that's not steamed.
Ask yourself – Will people feel punished for being vegetarians? Would I ever eat this? Am I proud to serve this? Are the vegetarians going to be drunk by the time the cake is cut?
Look through this list and take pity on us. 19 Meals Every Vegetarian Has Suffered Through
No more portabello mushrooms.
If all else fails, just give us pasta. Like a big plate. We'll be thrilled with that.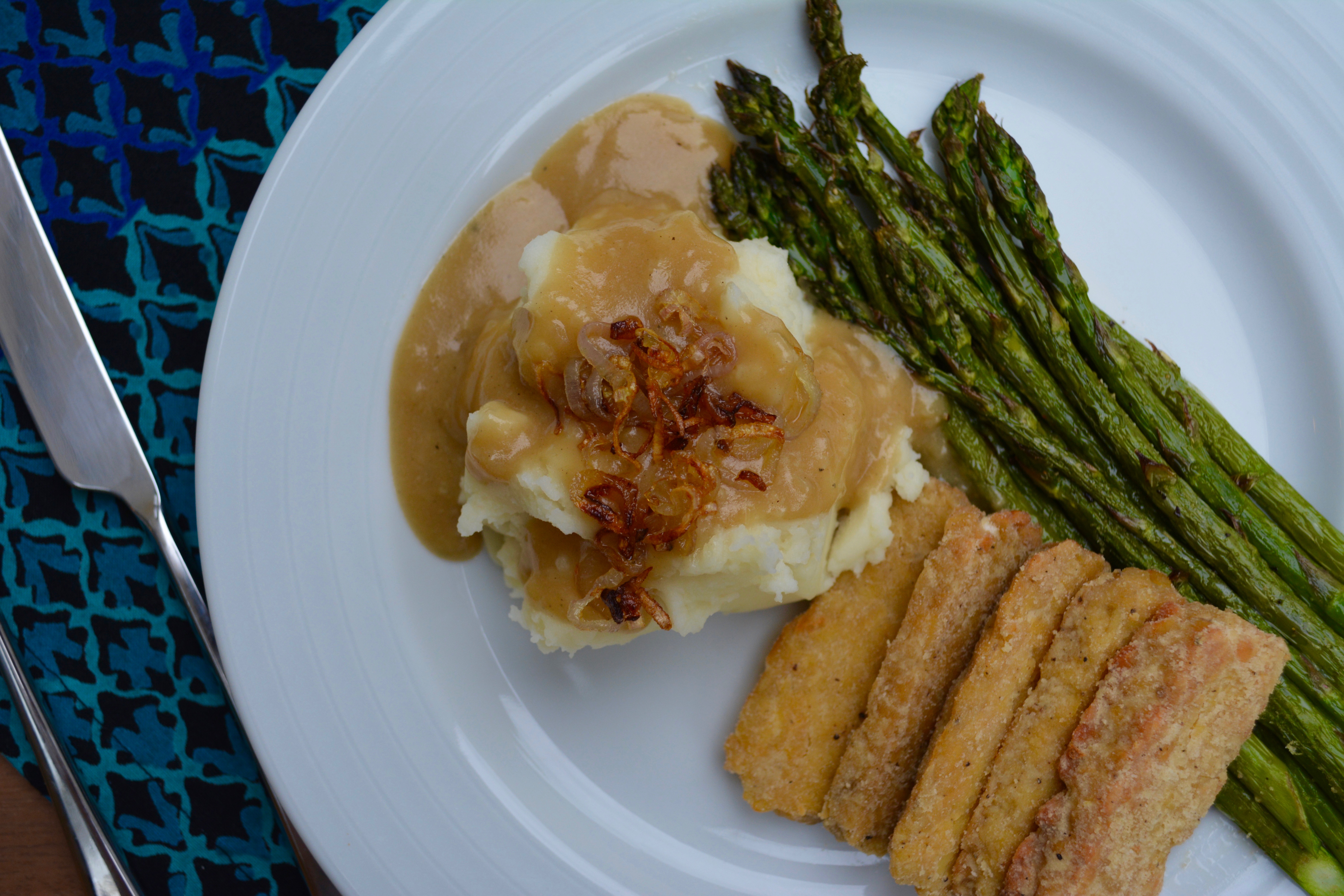 This isn't my most exciting, most challenging, or most colorful recipe. And that's the point. Vegetarian catering can be very easy and shouldn't be an afterthought. I'm tired of asking people I've met 45 minutes prior if they're going to eat their roll. And I sincerely don't want my friend to pay $200 for my "plate" if I've had better food at a rest stop on I-95.
This is an easy meal that won't make you take your focus off the non-veg meals and won't put you over budget – Baked Tempeh with Mashed Potatoes and Vegan Gravy. It's a little bit of a beige meal, but I'll take a tasty beige meal over the 38 other bad meals I've had.
Baked Tempeh with Mashed Potatoes and Vegan Gravy
(Serves 4)
Ingredients:
Potatoes:
5 medium sized russet potatoes, washed and peeled, and cut into 1-inch pieces
¼ cup of Earth Balance
½ cup of soymilk
¼ – ½ cup of starchy water (from the pot that the potatoes are boiling in)
½ teaspoon of salt
salt and pepper for tasting
Tempeh:
1 cup of flour, I used rice flour
½ teaspoon of salt
¼ teaspoon of pepper
2 packages (8 ounces each) of tempeh
2 cups of vegetable stock
Olive oil for basting – about 2 tablespoons
Vegetable:
Asparagus, broccoli, carrots, green beans, I'll take whatever I can get.
2 tablespoons of olive oil
¼ teaspoon of salt
1/8 teaspoon of pepper
Gravy:
3 tablespoons of Earth Balance – vegetable or olive oil would also work
2 tablespoons of shallots, minced
3 cloves of garlic, minced
3 tablespoons of flour, I used rice flour
1-2 tablespoons of reduced sodium tamari or soy sauce
1 tablespoon of nutritional yeast
1 ½ cups of water
Fresh lemon juice – optional
Directions:
Make the potatoes – Place the potatoes in a pot that is at least 3 quarts. Cover the potatoes with cold water and add the salt. Bring to a boil. After 10 minutes, poke a piece of potato with a fork. If it goes through easily, ladle ½ cup of water from the pot, and remove the potatoes from the heat and drain. Mash the potatoes (I used a ricer) and stir in the butter, milk, ¼ cup of starchy water, and season with salt and pepper. If the consistency is not creamy enough, add more of the water.
Make the Tempeh – Preheat the oven to 425° and line two baking sheets with parchment paper. Pour the flour on a plate and mix in the salt and pepper. In a medium size pot (3 quarts), place the tempeh and stock on medium heat until it comes to a simmer (just before it boils, you'll see a few tiny bubbles). Remove from heat and cut into ¼ inch slices. Dredge the tempeh slices in the flour mixture, and place them on one of the baking sheets. With a brush, baste the tempeh slices with olive oil on both sides. Bake for 7 minutes, flip the tempeh over, and bake from another 7 minutes or until they are crispy and golden brown.
Make the Vegetable – The timing on this part will be a little different based on the vegetable you choose. I tossed asparagus in olive oil and seasoned with salt and pepper and baked it for 7 minutes, then tossed them with a spatula, and baked for another 7 minutes.
Make the Gravy – On medium heat, warm the Earth Balance or oil. Add the shallots and garlic and sauté until they become fragrant and lightly toasted. While stirring, add the flour slowly to prevent clumping. Add a tablespoon of tamari and the nutritional yeast. Slowly add the water in while continuing to stir. Taste the gravy and add another tablespoon of tamari if it needs more of a savory flavor. Finish with lemon juice if desired.
Plate your food as you prefer. If you're feeling fancy, thinly slice a shallot and fry it in oil to garnish the potatoes. A sprig of rosemary would look nice too.
Stand with pride and a little smile, knowing that you are a hero to all the vegetarians at this wedding. They'll be talking about you for years to come.
A Few Notes:
I put this in order of what I thought made the most sense timing wise. You can also do everything ahead of time, and then heat everything in the oven prior to serving, except for the gravy. Reheat the gravy on the stove until it's hot.
The gravy can become VERY salty. Taste it as your making it. If it's too salty, I recommend adding a teaspoon of fresh lemon juice, one at a time until it becomes balanced.
My mother, the potato expert, would like to mention that she prefers Yukon Gold potatoes because they have a more buttery taste than russet. I accidentally bought russet – bad Irish daughter.
Question:
Any funny wedding meals or moments that you've had?