Vegan Ramen
(AKA 12 easy steps to writing a recipe)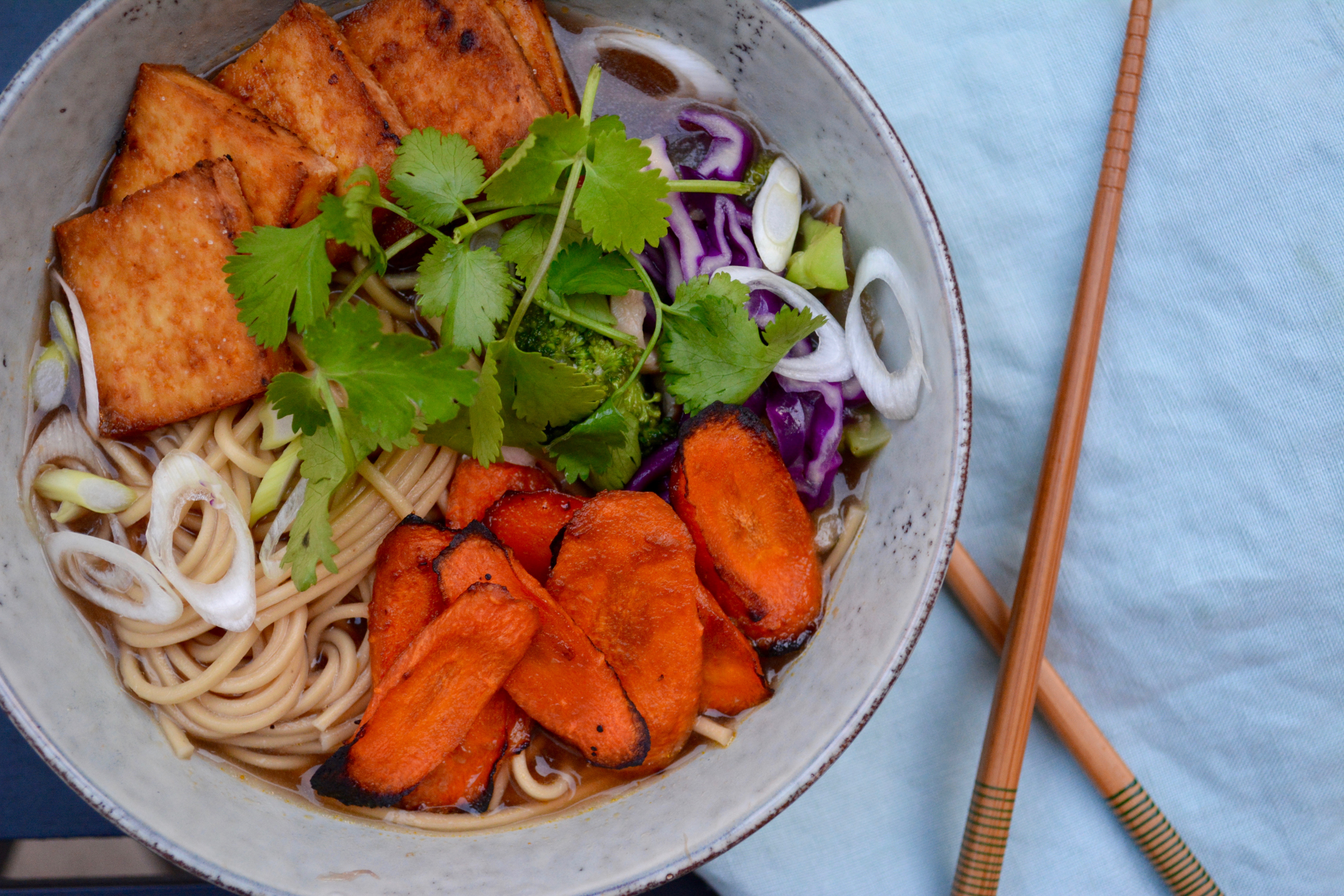 Some housekeeping:
The winner of last weeks giveaway is Katie, who inspired me to try something new next time I order a cocktail!
And for the local DSM group – I've updated my Contact/Hire Me page, so check it out for different services like knife sharpening or cooking classes.
I've been feeling a bit distracted lately my whole life. The proof is in the steps of this recipe.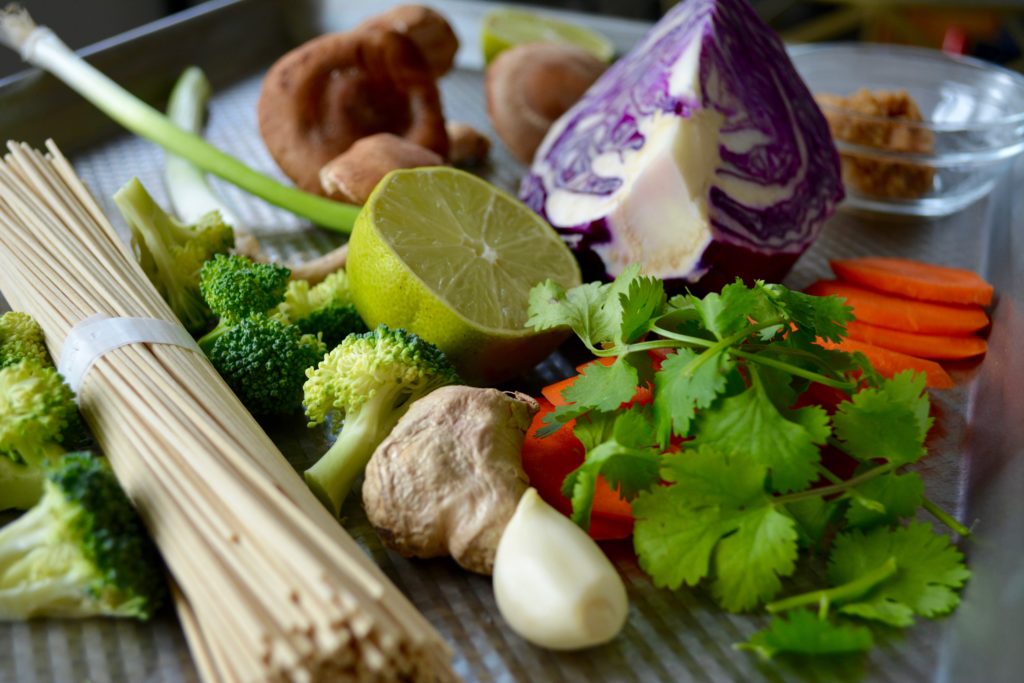 Writing up this recipe should not have taken me more than 30 minutes. Instead, it took 2 hours. Efficiency at its finest! Here's what I've done while writing down this recipe:
Tell my husband how motivated I am feeling today. Going to get that recipe written down! Start writing/Open a Word doc.
Grab a spatula, pose in the mirror. Continue to pose until I find myself swinging it like a bat. I've never done this before.
Look through the pantry. I forgot I had popcorn hiding up there!
Finish the tofu part of the recipe.
Complain about the pain in my hand.
Try to do a pushup. Nope.
Write about carrots. I'm on a roll!!
Diagnose myself with carpal tunnel syndrome.
Start the soup portion of the recipe. Get ½ way through.
Text my sister – I miss her! And my brother too!
I haven't listened to that new Ryan Adams album… Let's see if it's on Spotify. It is!
Finish up the soup portion!!!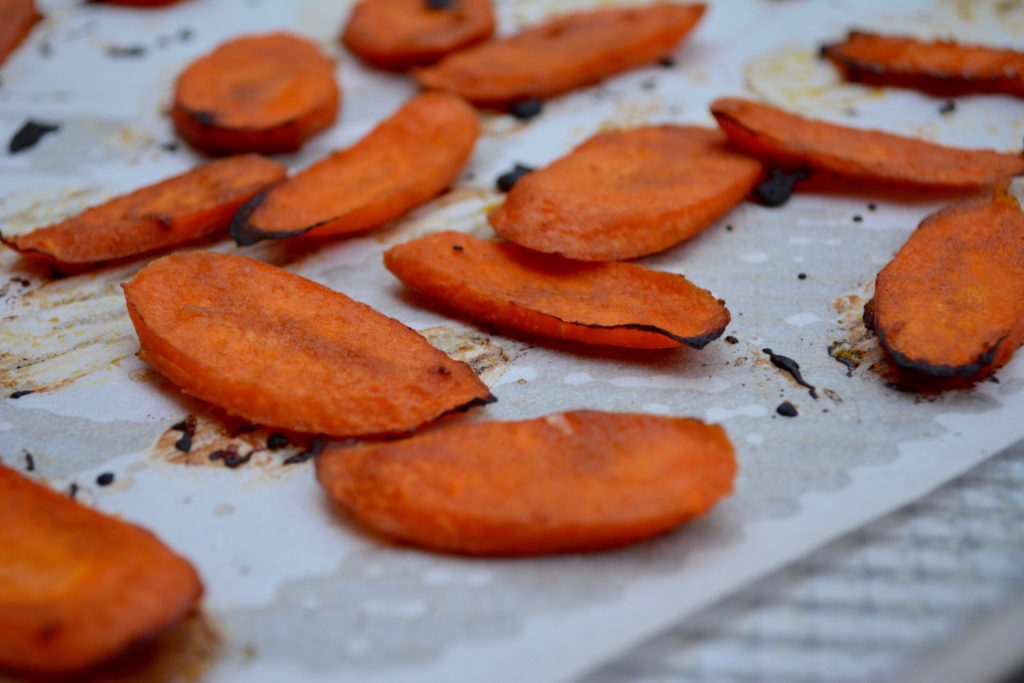 Just a quick 12-step process to get it done! Anyway… on paper, this recipe may seem a little complex or wordy. My suggestions are to stay organized – Get everything you need out on the counter. Start with the tofu, then the carrots. While those are cooking, prep all the remaining veggies and measure out the ingredients. Cook the ramen noodles last so that they don't stick together. I've wondered if you could just prepare the soup and put the dry noodles in and heat until they were ready, but I wasn't willing to test it out yet. Let me know if you decide to try that method!
Vegan Ramen
Serves 4
Ingredients:
Tofu:
1 block of tofu, pressed
2 tablespoons of olive oil
2 teaspoons of tamari or soy sauce
2 teaspoons of toasted sesame oil
2 teaspoons of sriracha
Carrots:
2 cups of carrots, sliced on a bias
1 tablespoon of miso (I used white)
1 tablespoon of tamari or soy sauce
1 teaspoon of toasted sesame oil
Juice of half a lime
Soup:
2 cups of onion (medium size onion), diced
¼ teaspoon of salt
2 cloves of garlic, minced
1 inch of fresh ginger, peeled and minced
4 ounces of shiitake mushrooms, stems cut off and sliced thin – see note
4 cups of vegetable stock
1-2 tablespoons of miso
1-2 tablespoons of tamari or soy sauce
Small crown of broccoli, cut into small florets
2 cups of purple cabbage, sliced thin
3 ounces of dry ramen – see note
Cilantro, sliced scallions, lime, and sriracha for garnish
Notes:
Shiitakes – The pack I got at whole foods that was 3.7 ounces, but I felt weird typing that. I always want more than the small pack offer, so I prefer to go in the bulk bins and get closer to 5 ounces.
Ramen – I used Hakubaku organic ramen. It has 3 little bundles of ramen in a package. The first time I used two bundles and I thought it was too much, but it's completely up to your preferences.
Directions:
Prepare tofu – Set the oven to 425° and prepare a baking sheet with parchment paper. Cut tofu into small slices (about a centimeter), then cut lengthwise. Place and spread out the tofu on the prepared baking sheet. In a small mixing bowl, combine tamari, toasted sesame oil, and sriracha. With a pastry or basting brush, brush both sides of the tofu. Bake for 30 minutes, flipping the tofu over halfway through baking. Set aside.
Prepare carrots – Set the oven to 425° and prepare a baking sheet with parchment paper. In a small mixing bowl (I used the tofu bowl and didn't even wash it in between!) combine the miso, tamari, toasted sesame oil, and the lime juice and mix well with a fork. Add in the carrots, stirring until the carrots are well coated. Spoon onto the prepared baking sheet. Bake for 15 minutes and set aside.
In a medium size pot (about 3 quarts) on medium heat, add onions and salt. Sweat for about five minutes, stirring occasionally. Add the garlic and ginger and continue to sweat for another 3 minutes. Add the mushrooms and stir occasionally for another 3 minutes.
Add stock, a tablespoon of miso and a tablespoon of tamari. Simmer for about 10 minutes. Taste the broth and decide if you'd like to add more miso or tamari.
Add the broccoli and cabbage and simmer for another 10 minutes.
Prepare the ramen according to the directions on the package. Add to the soup.
Ladle the soup into bowls and top with the prepared tofu and carrots. Garnish with cilantro, scallions, sriracha, and a lime wedge.
Question:
Do you procrastinate? What are your tips for focusing? I typically like to set timers and I'm not allowed to get up from my task until it rings. Clearly I "forgot" that technique today.