Lightened Up Caramel Corn
(AKA What I've Eaten for Breakfast for the Last Week)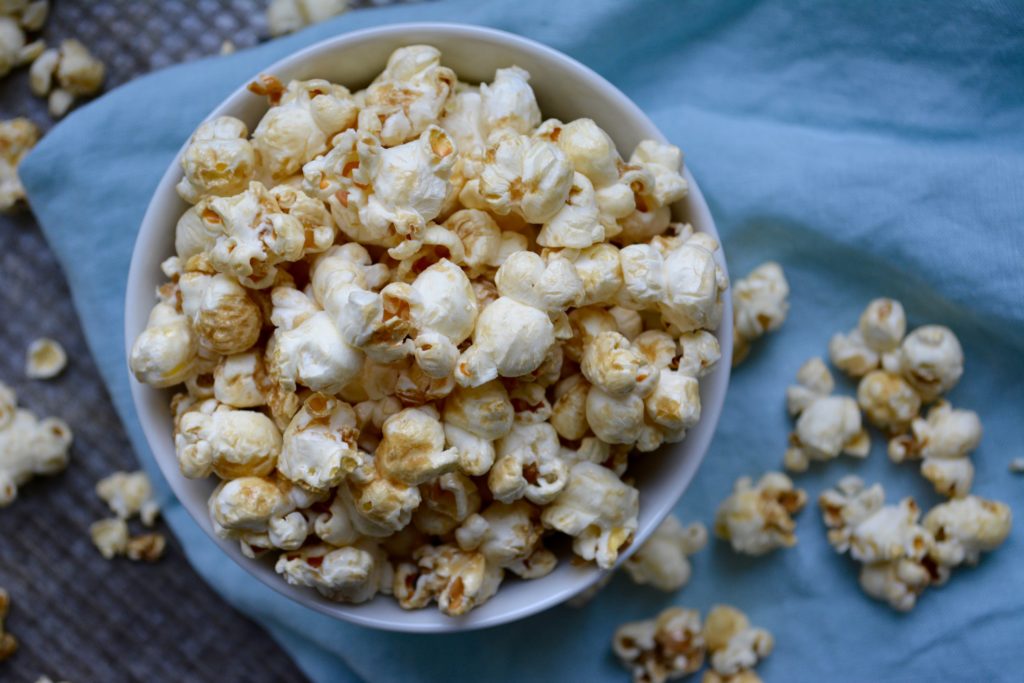 In the last 2 years I feel like popcorn has really made a comeback. Popcorn is not my favorite snack, but I really like the unhealthy types, like caramel corn. I sometimes have to have Jon hide a bag from me so that I don't eat it all in one sitting. I have no problem with treats, but I found myself at the grocery store putting the bag back on the shelf because I was so turned off by the ingredients. I just felt like sugar shouldn't be the first ingredient in popcorn. Sugar should be the first ingredient in gummy bears or licorice.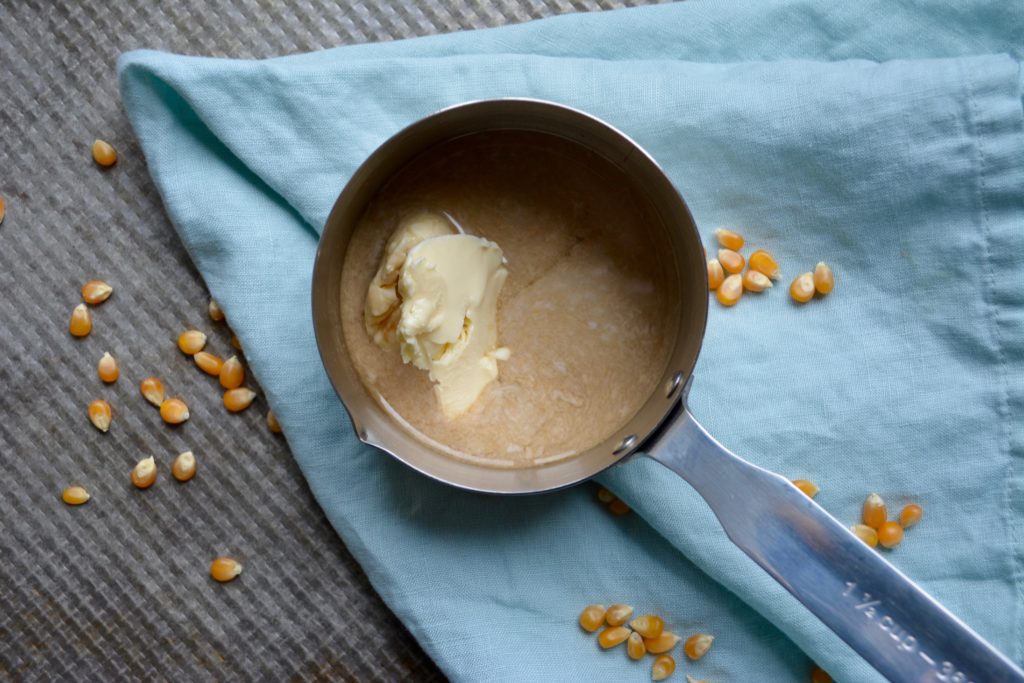 Then I found Whole Foods Kettle Corn and holy moly, I couldn't resist. It sells out fast; so if you see a bag, grab it and get an extra one for me! I've casually (read: not at all casual) asked my local Whole Foods when they receive shipments. And that's when I realized, I have a problem. (By the way – It's Wednesday and Friday for the Des Moines crowd).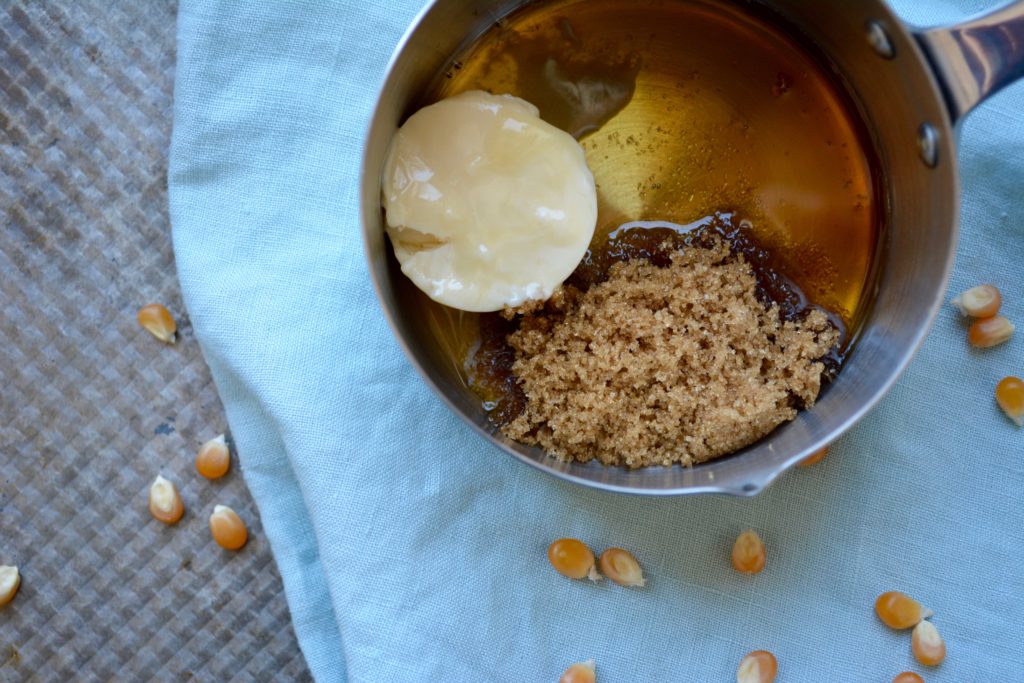 Making caramel corn is so much easier than I thought. Sure, this recipe is a little long-winded, but that's just me. In any case, here are a few notes:
I tried one version with all maple syrup and another with half maple syrup and half brown sugar. Both were good, but I preferred all maple syrup. Let me know which one you prefer. (The first pic of the little pot is the option without the brown sugar)
I originally wrote the recipe with 2 tablespoons of butter, which Jon preferred, but it was well, too buttery for me. I found myself wiping my hands on my pants after every handful. #slob
You need more oil than you think when popping the kernels – After 4 rounds of burnt, half-popped popcorn, I finally realized my mistake.
Speaking of the half-popped popcorn – what do you think of those brands that sell it that way intentionally? Maybe it's my Irish teeth, but I'm not a fan.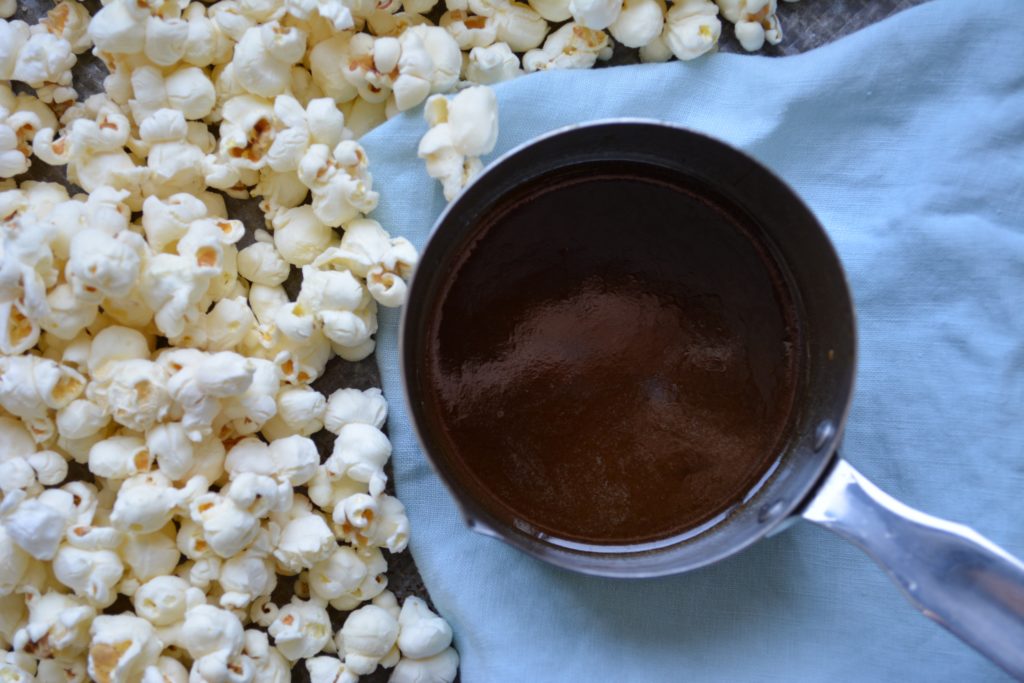 Lightened Up Caramel Corn
Serving: About 4 cups of popcorn 
Ingredients:
1 tablespoon coconut oil or canola oil
¼ cup of popcorn kernels
1 tablespoon of vegan butter, like Earth Balance or organic butter
2 tablespoons of maple syrup
2 tablespoons of almond milk
½ teaspoon of vanilla extract
¼ teaspoon of salt, plus more for seasoning
Directions:
Preheat the oven to 250° (225° if you're using a convection oven) and prepare a baking sheet with parchment paper.
Make the popcorn: In a medium sized pot (about 4 quarts), heat the oil on medium-high heat for about a minute. Take the pot off the heat and add the popcorn kernels to the pot and cover. Count to 15 and place it back on the heat. When the kernels start to pop, shake the pot every few seconds. When the kernels slow popping, remove from heat and take the cover off to let the steam out.
Make the caramel sauce: In a small frying pan or small pot, add the vegan butter, maple syrup, almond milk, vanilla extract, and ¼ teaspoon of salt. Heat on medium high heat and bring the sauce to a simmer for about 10 minutes. Stir the sauce with a fork often. The sauce will reduce to a syrup consistency.
Place the popcorn in a large mixing bowl. Slowly add the caramel sauce into the bowl (a few tablespoons at a time), stirring between adding the caramel.
Spread the popcorn out on the baking sheet, season with a pinch of salt, and bake for 25 minutes.
Question: What's a junk food you just can't control yourself around?