Sweet Potato Kale Salad with Rosemary Almonds
AKA – How I got myself to eat kale without crying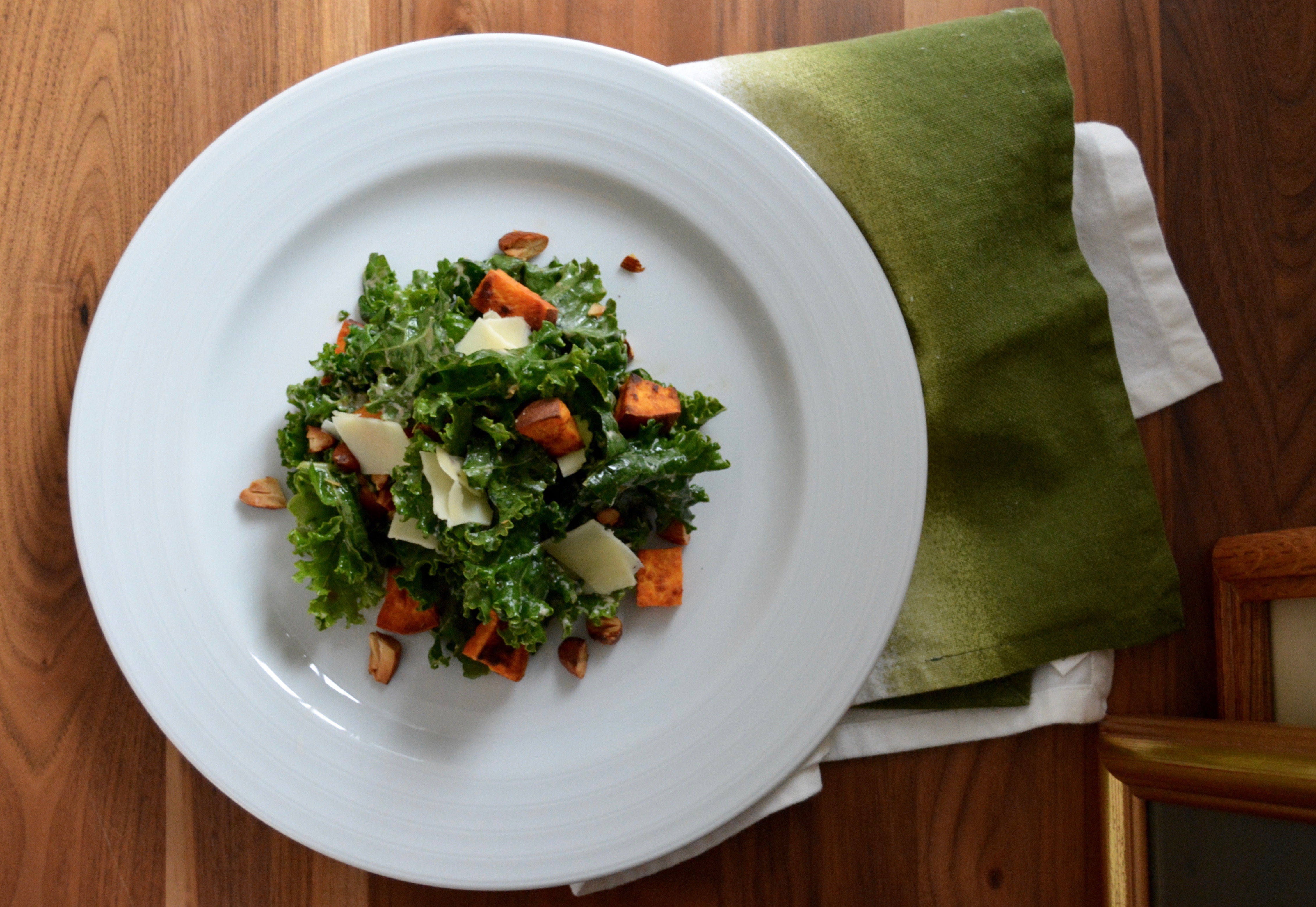 My family eats off each other's plates. When we go out to dinner my fork will shamelessly take bite from my dad's entrée and vice versa. When my husband and I first started dating he was surprised by this behavior. I promise I always asked first. JPK was under the rule of, "If you wanted to try my dish, you should have ordered it." His rule became very lenient over time, and he even took a vow when we got married to always let me eat off of his plate. Three years later he enthusiastically always lets me take bites.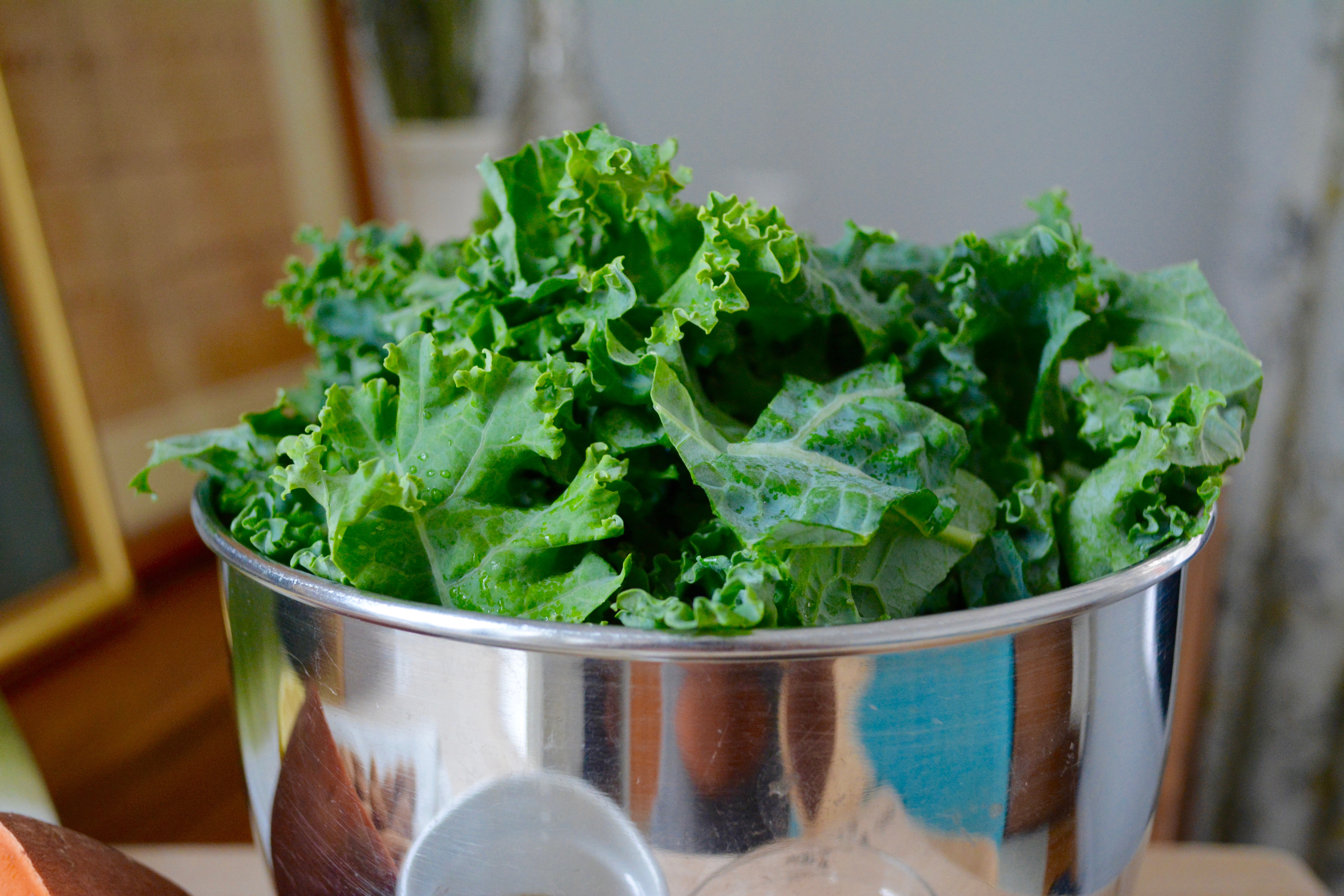 For the longest time I could not get on the kale trend. I literally once cried over it at a family dinner. Okay, maybe I was going through something, but still – I let kale push me over the edge. A few years ago JPK and I were checking out a new to us restaurant called Northern Spy. He ordered a kale salad and as I begrudgingly took a bite of it I was surprised – I could finally handle more than one bite of kale. Lucky for me, he was willing to share! This is a take on that Northern Spy salad.
I was recently at a friend's house when she was talking about kale and how she eats it to absorb calcium, but she can barely stomach it because it's too "woody." I caught myself being that annoying person saying – It's all about the preparation! Come to find out she wasn't massaging or de-stemming the kale. As a teacher of mine once said, "If you don't massage your kale, it would be like a freight train running through your digestive system!" It is certainly time consuming to de-stem your kale, but it's worth it in the end.
A few notes:
If massaged kale is still too much, try it with lacinato/dinosaur instead of curly kale. If you're using lacinato, I might buy an extra head due to the lack in volume in comparison to curly. It's a little softer, but still full of health benefits like reducing cholesterol and inflammation, while increasing the detoxification process. With any food, eat it in moderation as crucifers may contribute to an underactive thyroid.
Liquid Aminos is a slightly controversial product. To be honest, I'm not really sure why – feel free to comment. Maybe because it's made out of soybeans? If liquid aminos isn't for you, feel free to swap it out with tamari or another type of soy sauce.
Sweet Potato Kale Salad with Rosemary Almonds
Serves 4
Ingredients
Salad
1 medium sweet potato, medium dice
3 tablespoons olive oil, separated
1 head of curly kale
Juice of ½ a lemon
Pinch of salt, plus more to taste
¼ cup of cheddar cheese, shredded or shaved
Rosemary Almonds
¼ cups of raw almonds
¼ teaspoon of rosemary, minced
1 teaspoon of olive oil
Pinch of salt
Dressing
¼ cup tahini
1 ½ teaspoon liquid aminos
¼ cup warm water
Directions
Preheat the oven to 400° and line a baking sheet.
Toss cut sweet potato in 1 tablespoon of olive oil and salt. Bake on parchment paper for 10 minutes, turn over, and bake for another 10 minutes or until they have a golden-brown exterior.
In the same oven as the sweet potatoes, roast the almonds for 5-7 minutes, or until they become fragrant. Toss in a bowl with rosemary, olive oil, and salt. Chop into small pieces.
De-stem kale, wash, and roughly cut into bite size pieces. Place in large bowl
While sweet potato is cooking, add the lemon and remaining olive oil to the bowl of kale. Massage thoroughly. Take out all your aggression out on this kale. When you're done with that, massage it some more.
Combine dressing ingredients in a bowl and mix with a fork until it becomes a creamy consistency. You can also use a food processor or blender. You will have extra dressing; so don't add it to the salad all at once. I tend to overdress this salad because I love the dressing, but I know people are picky about salads.
Add sweet potatoes and almonds to dressed salad. Salt to your liking and garnish with cheddar cheese.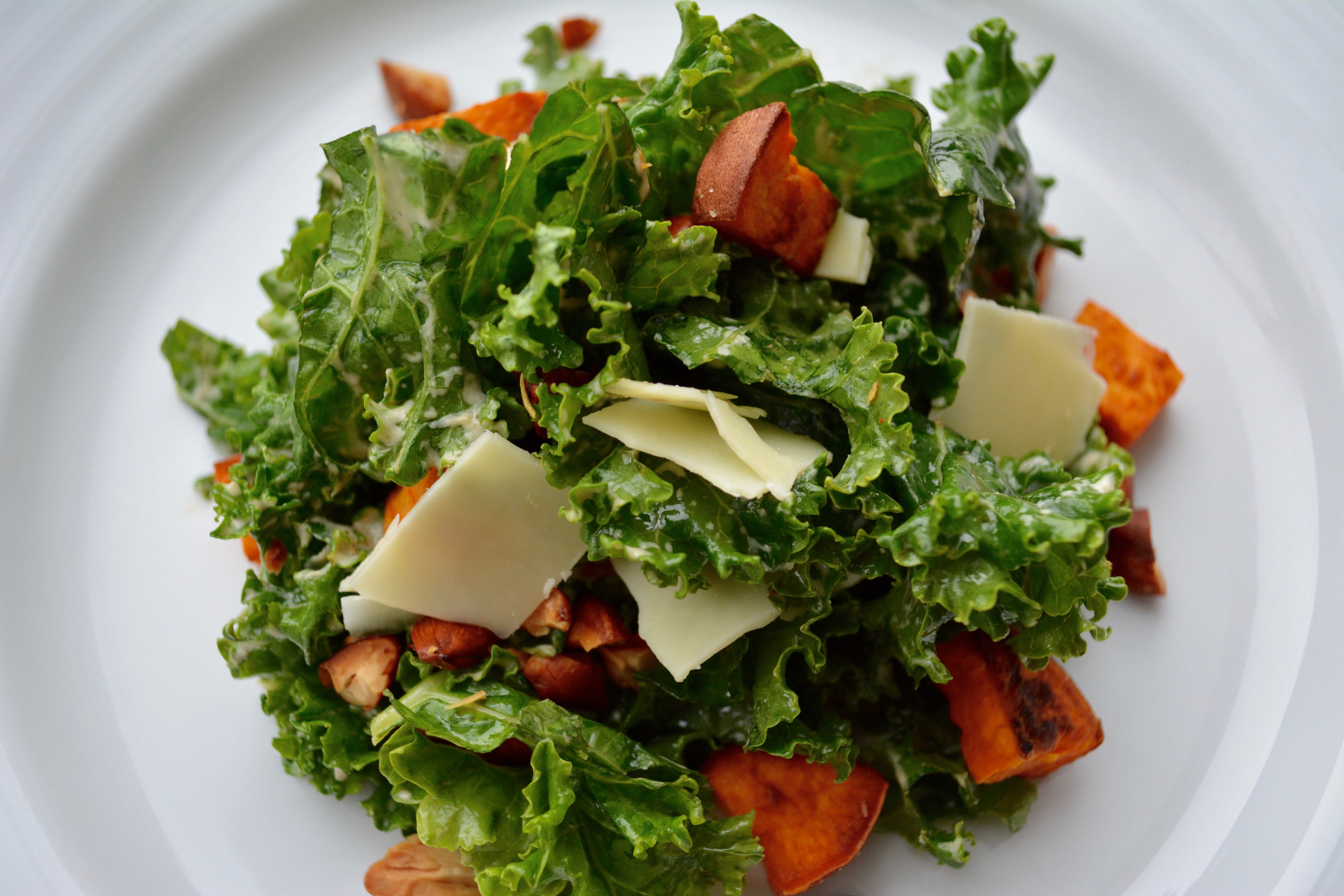 Question: How do you feel about sharing food?